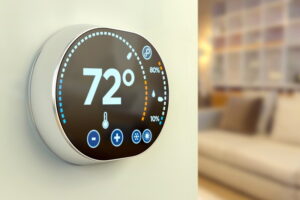 The short answer to this is, "yes," but don't worry, we'll elaborate!
Thermostats are one of those home comfort devices you likely don't give a lot of thought to. If it's working, it's fine, right?
Sure, your current programmable thermostat may do the basics, like allowing you to set and adjust the temperature of your home. But what if you didn't have to pay as much for your cooling and heating, and what if your thermostat choice could impact this?
It can! New, high-tech smart thermostats are capable of much more than simply adjusting the temperature of your home. For such an affordable upgrade, you can enjoy a number of benefits. So if you currently have an aging thermostat, or if you have just moved into a new home and you're not sure how old the HVAC thermostat is, it's a good idea to consider an upgrade. It may seem like a minor change, but it can have big implications. Read on to learn more!
Temperature Accuracy
If you still have an older, manual thermostat, there's a chance that it's not going to be accurate when it comes to temperature settings. When using a dial or sliding a switch, it's hard to tell which marks align with what number. You may figure you're "close enough," but the difference between even just a couple of degrees can have a huge impact on your energy bills. Additionally, when you aren't actually getting the temperature you think you've set, you risk your air conditioner (or heater) constantly running.
Even upgrading to a thermostat with a digital display makes it so you don't have to question whether the temperature you see on the thermostat is right. Upgrading to a smart thermostat makes it even clearer.
Programming
Even a basic programmable thermostat upgrade has its benefits, as you can create a program set around you and your family's specific schedule. Too often, folks will set a comfortable temperature and let their system run continuously at that temperature for the whole day. However, continuing to cool or heat your air when you're not even home means you're using more energy and spending more money as a result.
Programmable thermostats allow you to adjust temperatures appropriate for the time of day. You can potentially save up to 10% per year on heating and cooling costs by setting your thermostat up 7-10 degrees for 8 hours each day in the cooling season and down 10 degrees in the heating season.
Smart/WiFi Capabilities
This is where homeowners really see a difference in their comfort and their savings–by upgrading to a smart or WiFi thermostat. Thermostats that have WiFi capabilities have the ability to adjust automatically by learning from your cooling and heating preferences. They essentially learn your habits within about a week to find the most preferable and efficient settings for your household.
Plus, your smart/WiFi thermostat can be access from anywhere you have internet access with, through your phone!
Looking for quality thermostat services in the Pittsburgh area? Call the friendly staff at Boehmer Heating & Cooling for exceptional customer service!