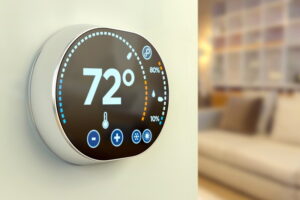 The short answer to this is, "yes," but don't worry, we'll elaborate!
Thermostats are one of those home comfort devices you likely don't give a lot of thought to. If it's working, it's fine, right?
Sure, your current programmable thermostat may do the basics, like allowing you to set and adjust the temperature of your home. But what if you didn't have to pay as much for your cooling and heating, and what if your thermostat choice could impact this?
It can! New, high-tech smart thermostats are capable of much more than simply adjusting the temperature of your home. For such an affordable upgrade, you can enjoy a number of benefits. So if you currently have an aging thermostat, or if you have just moved into a new home and you're not sure how old the HVAC thermostat is, it's a good idea to consider an upgrade. It may seem like a minor change, but it can have big implications. Read on to learn more!