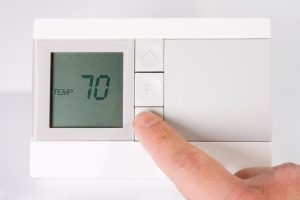 Summer is an enjoyable time of the year around our area, but the heat can admittedly get a bit tiresome for many, especially indoors! When you're out enjoying the summer weather all day, the last thing you want to do is come home to a living space that is just as hot—you want a fully efficient and effective air conditioner to great you. This does not, however, mean that you should blast your air conditioning in Pittsburgh, PA as low as the thermostat will go!
Many homeowners result to this as a solution to the heat, but the recommended temperature setting during the summer is 78°F, according to the Department of Energy. If you keep setting it lower and lower thinking it will help you get cooler faster, you'd be making a mistake. Now, if you're setting it lower and lower and you do not feel cooler at all, then there might be something wrong with your air conditioner, which will get to down below. Read on to learn more!
How a Thermostat Operates
First, we want to clarify how a thermostat actually works, to illustrating that lowering it isn't a way to get more cooling. The thermostat doesn't operate like a throttle in a car does—we mean, you aren't pushing down a pedal that forces the AC to "ramp up" and produce higher levels of cooling.
A thermostat is actually no more than a switch, connected to complex computer controls, that turns the cooling process "on" and "off." When the indoor temperature registers as higher than the setting on the thermostat, the thermostat turns on the compressor to start cooling the space. When that space is cooling down to the setting, the thermostat then turns off the compressor.
So when you turn down the thermostat to a low setting, you're requesting that the compressor runs longer to reach that temperature. This isn't a way to make the AC work faster at its job, or give you better cooling levels. This is why we advise our customers that it's unwise to set their thermostats as low as they will go!
What If Your Thermostat Setting Isn't the Problem?
So let's say you're setting your thermostat down lower, but you aren't getting cooler at all, which we mentioned above. First off, please don't set your thermostat down lower to compensate for an air conditioner that can no longer effectively cool down your living space. All this does is puts extra stress on a system that is already malfunctioning. You could end up hastening a complete AC failure.
After checking to ensure that your air filter isn't clogged and therefore restricting airflow, call in a pro to take a look. Sometimes, the problem is actually the thermostat—perhaps the temperature sensors are miscalibrated and the thermostat is shutting the compressor off too soon. You won't get the cooling you need in this case. However, there are many other possibilities, such as problems with the compressor, the evaporator coil, the blower fan, or even your ductwork. Don't leave it to chance, call in an trained and experienced HVAC pro!
Boehmer Heating & Cooling is your trusted resource for exceptional HVAC tips and services. Call our friendly staff for exceptional customer service.