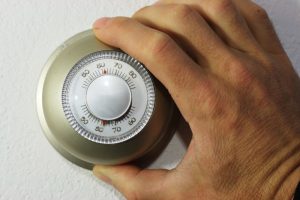 We wouldn't go that far. But, an outdated, miscalibrated, or improperly installed thermostat can certainly hinder the performance of your heater (and your air conditioner, for that matter). Given how much we use our HVAC systems around here, it stands to reason that you want to do everything you can to save energy, and subsequently save money. We want that for you too! Which is why we offer thermostat services as part of our comprehensive Pittsburgh heating services.
The first thing we want you to understand about your thermostat is that the quality of this device and how you use it plays a pretty big role in how efficient your heater will work. Read on to learn more about this relationship, and to discover what your thermostat options are (and how they improve efficiency).
Thermostat Problems and Their Impact on HVAC Systems
The thermostat that communicates with your HVAC systems is basically the brain of those systems. It enables you to choose when these systems turn on, and the precise temperature of your home at various points in the day. Many homeowners have called our pros for HVAC repairs, when it actually ends up that it wasn't the HVAC system that had a problem. The components of the system may be just fine, but aren't being properly controlled by the thermostat.
And a thermostat problem, understandably, impacts your ability to control the HVAC system. The end result can be just as detrimental as having a problem with the HVAC system itself, since it could render it useless or incredibly inefficient. We'd like to help you save money and hassle. So, if you suspect you have a thermostat problem, or would like to look into an upgrade, be sure to contact our team.
The Issue with a Thermostat Malfunction
There are a number of things that can happen when your thermostat malfunctions. For example, if you can't raise the temperature of your heater on one of the coldest days of the year, it may not cycle on when you need it too, leaving you uncomfortable and potentially even unsafe.
One of the biggest issues a malfunctioning thermostat can cause for the system itself is short-cycling. This is when your heater or cooling system shuts on and off rapidly, usually running just a few minutes at a time. This problem with this is that short-cycling causes your system to work too hard to heat or cool your home, leading to premature repairs, and potentially even a premature system replacement.
Should You Upgrade Your Thermostat?
A malfunctioning thermostat doesn't always mean you need a new one, but there are certainly benefits to upgrading, even if your thermostat is just a decade old. Huge advancements have been made in thermostat technology. If you have an old, manual slider thermostat, then it will benefit you greatly even just to upgrade to the most basic digital thermostat.
You can take that a bit further and get a programmable thermostat, or if you want to go all out, we recommend the smart (WiFi) thermostat, which "learns" your adjustments and automatically sets itself according to your heating or cooling preferences.
Call the friendly staff at Boehmer Heating & Cooling for exceptional customer service!