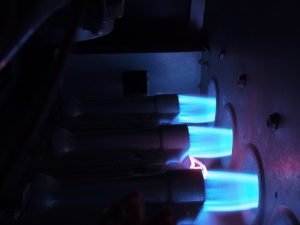 First, we want to start by saying that if you have a gas furnace warming your home each winter, it is not inherently hazardous in any way. What can make it a danger, however, is not keeping up with system maintenance once a year, and/or not following up on furnace repair needs that your system may have.
Over 64 million homes in the U.S. use natural gas for winter heat. If they did pose a basic health threat to a home, this number would not be as high. The fact of the matter is, current standards for the manufacturing of natural gas furnaces places a special emphasis on maintaining safety in operation. So, what's up with the title of this blog post?
Beware the Cracked Heat Exchanger
A furnace problem that is most likely to create a safety hazard is a cracked heat exchanger. This component is the metal chamber within your furnace that heats up due to combustion gas, then transfers that heat into the air, passing through the furnace cabinet. In other words, the heat exchanger is what makes it possible for the "heating" to come from your furnace at all.
The danger is in the exhaust gas within the heat exchanger—it is toxic. When your furnace is well maintained, it safely vents that exhaust away through a flue, and expels it outside where it dissipates. However, if a crack forms in the heat exchanger, these harmful gases can escape into your home, instead, as the metal expands from the heat and widens the crack.
All things considered, it's a bit of good news that this usually only happens with aging furnaces—more specifically, furnaces that have been in use for 15 years or more. This is enough time for corrosion to set in from the chemical reaction of the metal of the heat exchanger and the combustion gasses, which is when cracks occur. Our recommendation is that you replace your furnace when it reaches this age, as you'll help prevent not only this hazard but other problems with your heating system.
Even if your furnace is on the newer side, it's important to be aware of this potential hazard and to know the signs to watch out for that something is amiss. For instance, any sign of corrosion on your gas furnace is a reason to call in a pro. Additionally, clicking sounds coming from the furnace after the blower fan shuts off is another warning.
Never Underestimate Maintenance
Again, the best way to prevent this hazard and others is by scheduling a professional maintenance appointment each year before winter begins, ideally. Honestly, it matters more that you have maintenance done each year than it does what time of the year it is. We just say before winter begins as it's more convenient for scheduling, and so you don't have to have too much of an interruption in service.
Call the friendly staff at Boehmer Heating & Cooling for exceptional customer service and thorough heating maintenance in Pittsburgh, PA and beyond.