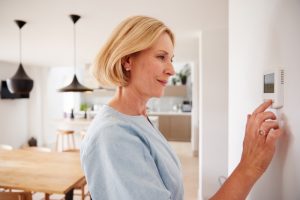 Maybe you're rolling your eyes at this question. "Is there really a right or wrong way to use a thermostat? It's such a simple device! How could I be using it incorrectly?"
We get it, the thermostat is one of the smallest components of your air conditioning system and it can seem a bit absurd that we'd suggest you're not using it to the best of its ability. But, the truth is, the way you use (or don't use) your thermostat can have a significant impact on the efficiency of your air conditioner–and your heater, for that matter.
The thermostat serves as the brain of your HVAC systems. If it's not sending the right signals to your climate control equipment, then that equipment won't work right, either. Read on as we dive into this topic a bit further.
Your Thermostat May Be Misplaced
What do we mean by this? Well, is your thermostat installed in a location that gets direct sunlight most of the day? Then we have some news for you…
In the case of your air conditioner, the thermostat is going to signal the system to turn on way sooner than you actually need it. You may feel nice and cool inside your home the majority of the day, but your AC is going to run longer than it otherwise would, leaving you with higher energy bills than you deserve!
And your heater? When winter rolls back around, the radiant heat from the sun will tell your heater not to turn on quite yet–let it get a little colder. So while your energy bills will stay a bit lower, you won't be comfortable.
The truth is, you shouldn't have to sacrifice efficiency or comfort when using your home comfort systems! If you installed your thermostat yourself or you're unsure if it was installed in the most efficient place possible, please don't hesitate to contact our team for helpful advice and quality customer service.
You May Be Setting the Thermostat Too Low (or Too High)
In the summertime, the average person can be comfortable in a 78° home. But homeowners often set their thermostats to about 72°, thinking that will help their living space cool down faster. This just isn't the case, however. All it does it make the air conditioner cycle on sooner in the day, and run longer throughout the day. This isn't very efficient and will cost you more than it's worth.
This concept can be flipped in the wintertime. 68° or even lower is fine for most people in the wintertime. Setting it too high, again, will cause the heater to cycle on sooner than it needs to.
HVAC Efficiency Boosting Tips
No matter how you use your thermostat, there are other actions you can take to boost efficiency so you can stay comfortable but keep your utility bills down. This includes:
Closing the blinds and curtains on south-facing windows during the day in the summer, and keeping them open in the winter.
Using your ceiling fans to better circulate the cool air coming from your AC, and using your ceiling fans in reverse to better circulate the warm air from your heater in the winter.
Scheduling routine maintenance! We will thoroughly inspect, clean, and adjust your climate control system to provide you with optimal efficiency and comfort throughout the years.
For professional thermostat services in Pittsburgh and beyond, contact the friendly staff at Boehmer Heating and Cooling!