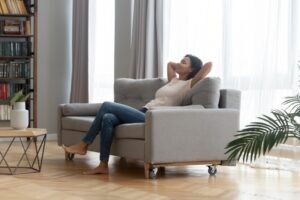 For many households, "back-to-school" time might actually mean "back-to-homeschool" time. Even if your kiddos are going back to the classroom, surely you'd like your home to be as healthy as possible for when they're inside the house! Fortunately, there are a number of improvements you can make within your household to ensure this is the case. We provide a number of indoor air quality products and services to help make your indoor air more breathable, comfortable, and better overall.
Read on as we uncover some indoor air quality additions you can make to your home:
Good: Whole-House Media Filter
The air filter that comes standard with your HVAC systems is not enough to protect or improve your indoor air quality. Instead, this air filter is in place to protect the actual air conditioning and heating systems from dust, dirt, and other debris that can get inside and damage their sensitive components. It's important that you keep this air filter in mind, and change it every 1-3 months, but if you truly want to impact your air quality, you'll do well to consider a whole-house media filter, such as an air purifier.
Whole-house air purifiers and air filtration systems are far more powerful and efficient than using portable air filters. While a portable air filter lets you tackle a room or two at a time and requires frequent upkeep, whole-house systems are installed conveniently right into your HVAC ductwork where they're out of the way, but effectively removing contaminants from your indoor air. These contaminants include allergens like dust and pet dander, and contaminants like VOC's (Volatile Organic Compounds) and household fumes–even smoke.
Better: Whole-House Media Filter + UV Air Purifier
You've already taken a step in the right direction toward improved indoor air quality with the addition of a whole-house media filter. Next, it's time to consider your ductwork. Meaning, the contaminants that could be lurking there. Your ducts are the perfect breeding ground for bacteria, mold spores, and mildew. Then when your heater or air conditioner cycles on, it blows those contaminants right into your home.
A UV air purifier can be installed directly into your ductwork, where it not only kills existing bacteria and viruses but prevents any from appearing in the future.
Best: Whole-House Media Filter + UV Air Purifier + Humidifier
So let's say you're equipped with a whole-house media filter, you've added a UV air purifier to the mix, and you're wondering if there's still something more you can do to make your home as healthy as possible for your family? Well, there is! You can consider the addition of a whole-house humidifier.
The ideal relative humidity level in any given home is between 30-50%. Anything below that 30% is actually considered too dry, which can cause a number of problems. Dry air makes it easier for people to transmit illnesses to each other, as it dries up mucous membranes that act as our body's natural defense system against germs. Dry air also can cause property damage like cracked wooden floorboards and fixtures. A whole-house humidifier resolves all of this!
Check out our next blog post to learn more about the power of whole-house humidification!
For your indoor air quality needs in Pittsburgh and beyond, look no further than our team. Call the friendly staff at Boehmer Heating & Cooling for exceptional customer service!