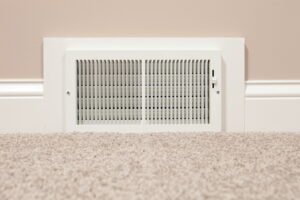 Your ductwork plays a highly important role in keeping your home comfortable. If you have any ducted HVAC system such as a heat pump, furnace, or standard split AC, then they need a way to deliver the temperature-controlled air they make into your home. They do this through your ducts.
If something goes wrong with your ducts, it will impact the comfort of your home. Think of it like potholes in a highway–the more holes there are or the bigger they are, the worse the overall delivery will be.
The tricky part is figuring out if your ductwork is actually in need of repair. Detecting duct leaks and fixing them is something you can trust our team to do. Read on to learn more about discovering when you need duct sealing to ensure you can keep things comfortable and improve your home energy efficiency.
What Can Happen to Your Ductwork
While this part of your home isn't exposed to the elements, your ducts are going to be worn down over the years as they expand, contract, and shift with airflow.
The first thing that can impact your ducts is debris buildup. This can reduce your comfort and negatively impact your indoor air quality which is why duct cleaning is something to consider every few years.
One of the bigger and more common issues is going to be ductwork leaks. As we mentioned, your ducts expand and contract as air passes through them. Eventually, this can lead the ductwork to wear down and develop holes or small leaks.
5 Signs of Duct Leaks
Don't be tricked into thinking that a small issue with your ductwork is nothing to worry about. Duct leaks can be the source of up to a 30% loss of air! Indicators of this problem can include:
Reduced comfort: Leaking air means less air makes it to the rooms in your home.
High energy bills: That 30% loss of air leads to a higher demand on your HVAC systems, increasing their energy use.
Hissing sounds: Air escaping through duct leaks can create a hissing noise.
Dusty air: Leaks don't just let airflow out, they allow dusty, untreated air in.
Weak airflow: If the air exiting one or more vents in your home is weaker than usual, it may mean you have a duct leak.
Getting Leaks Sealed
So how do you handle leaky ductwork? We can assure you the answer is not duct tape. Using duct tape can actually end up causing more damage in the long run.
The first step to take is to have your ductwork assessed by a professional to see how severe the problem is. This is something that we can figure out with a home energy audit. If testing shows that your ducts have a problem, then you can work with your technician to get them sealed.
This may involve the use of a spot-sealing technique or it could mean using a more encompassing method to address multiple leaks. The important thing to remember is that duct sealing and other duct services should always be left to the professionals.
Call the friendly staff at Boehmer Heating & Cooling for exceptional customer service! Schedule your duct sealing with our team today.