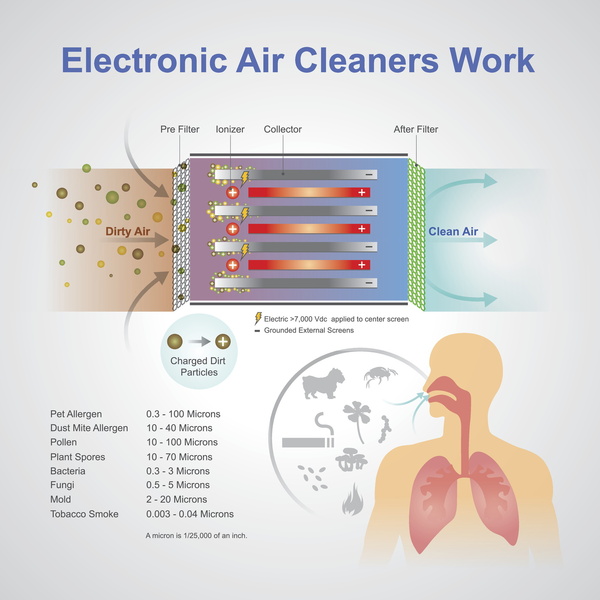 When thinking about air quality, you may be more focused on what's in the air outside such as mold and pollen levels. In fact, indoor air quality (IAQ) is even more important. After all, most Americans spend 90% of their time indoors, and that percentage is even higher for those suffering from respiratory conditions or allergies. At the same time, IAQ has become more of a concern due to factors such as new building construction utilizing airtight features to increase energy conservation. That's why if you're going to invest in an air purifier, whole-house air purifiers are your best bet.  
Signs You Need a Whole-House Air Purifier
Everyone wants to breathe the best quality air possible. Beyond that, though, there are clear indicators of IAQ problems to keep an eye out for:
Condensation on walls or windows
Moldy books, shoes, or other items
AC system with fouled cooling coils
Dirty ductwork
Smelly or stuffy air
Want to know for sure if you need an air purifier system? The first step is to schedule an air quality test.
Benefits of Whole-House Air Purifiers
You may be tempted to buy a small, portable air purifying unit to use in your house. This will certainly have some impact on IAQ. To achieve the best results, however, you should contact your local air conditioning experts to see which whole-house air purifier system is best for your needs: media filter, electrostatic, electronic, ultraviolet (UV), or a combination of these options.
Cost Efficient
Smaller air purifying units can only handle one or maybe two rooms at the most. Instead of investing in multiple units to have throughout your house, a whole-house system can ultimately be more cost efficient. You also won't have to maintain several units as opposed to just one located near or in your heating, ventilating, and air conditioning (HVAC) unit. Cleaner air will also allow you to less frequently change HVAC filters which can be $30 or more.
Convenience
A whole-house air purifier will typically be integrated into your HVAC system and/or its ductwork. This means you have neither room space taken up by smaller units nor the noise associated with them. Plus, you will have uniform IAQ throughout your home 24/7. While an air purifier will not mitigate serious mold infestations in your home, the use of one will help these problems from occurring to start with.
Extend HVAC Life
The cleaner your HVAC system, the longer it will last. Integrating a whole-house air purifier into it will keep cooling coils clean and allow your system to run more efficiently. In addition, reducing the amount of mold in ductwork will increase its lifespan.
Maintaining Your Air Purifier System
If you make the choice to buy a whole-house air purifier system, you'll want to make sure it's properly installed and maintained to operate at peak efficiency. To that end, your best bet is a regularly scheduled maintenance plan which allows our trained technicians to keep everything running smoothly for you.
Contact Boehmer Heating & Cooling for whole-house air purifiers in Whitehall, PA, today!