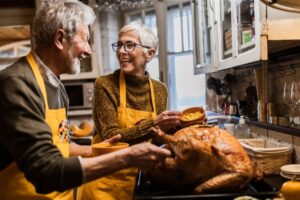 With Thanksgiving just around the corner, the holiday season is in full swing. From holiday meals to spending more time with friends and family, there is a lot to look forward to this time of year.
Unfortunately, the holiday season is also a time of year when the number of house fires increases drastically. According to the American Red Cross, fires increase for several reasons related to decorations, toys, and cooking. Take a look at these startling statistics.
Approximately 47,000 fires occur in the US during the winter holiday season. These fires account for more than 500 lives, more than 2,200 injuries, and $554 million in property damages
On average, 1 out of every 22 home fires that are started by Christmas trees and Christmas tree decorations result in death.
Fires that start from candles are 4 times more likely to occur during the winter holidays.
During the holidays, an average of 40 home fires per day are caused by children playing.
While we don't want to put a damper on your enjoyment of the holiday season, it's important to be aware of the perils of the season. That's why we're posting this reminder of why it's essential to be vigilant about home safety during the holidays while also enjoying the merriment and festivities. Here are 5 holiday fire safety tips to be aware of. 
1. Schedule Furnace Maintenance
When was the last time you had your furnace tuned up? Both gas and electric furnaces need annual maintenance to ensure their safe operation. During a maintenance check, our technicians will check the safety of your furnace to make sure it's working properly.
2. Test Smoke Alarms and Carbon Monoxide Detectors
With family and friends making frequent visits and extended stays, it's a good reminder to test your smoke alarms and CO detectors to make sure they're working properly. It also might be time to replace them if they're older than 10 years. Alarm batteries should be replaced every 6 months.
3. Keep Objects Away from Furnaces and Fireplaces
Keep flammable items away from heating sources. They need at least 3 feet of space around them for proper circulation and to operate safely. Refrain from hanging stockings over a fireplace that you use. Keep boxes and other objects away from your furnace or heating system.
4. Keep an Eye on Your Christmas Tree
Before decorating the tree, be sure to inspect all electrical lights and decorations, looking for frayed cords, broken bulbs, or anything amiss. Keep both artificial and real Christmas trees far away from any heat source. Water live trees to keep them from drying out. Lastly, never leave Christmas lights on if you're not at home or overnight.
5. Be Cautious When Cooking
Preparing extensive holiday meals can be stressful and it's easy to become distracted. That's why Thanksgiving is the top day for home cooking fires, followed by Christmas Day, and then Christmas Eve. Exercise caution when cooking for your loved ones. Ask for assistance when you need it and refrain from consuming alcohol while cooking.
Call the friendly staff at Boehmer Heating & Cooling for exceptional customer service! Schedule a furnace tune-up in Pittsburgh with our team today.