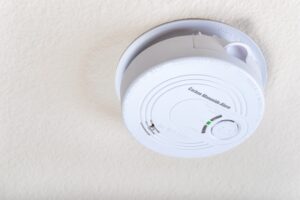 It's November and that means it's Carbon Monoxide Awareness Month! This is the time of year that's dedicated to helping protect the public from the dangers of carbon monoxide (CO). Accidental CO poisoning is responsible for about 450 deaths per year in the US alone.
At Boehmer Heating & Cooling, we want to make sure our customers are informed about the risks of CO poisoning and provide tips to keep your home and family safe. Keep reading to learn about the importance of CO Awareness Month and the steps you can take to protect your household from CO poisoning.
Carbon Monoxide Awareness Month
With so much holiday planning going on this time of year, you might be wondering why Carbon Monoxide Awareness Month occurs in November. It's because the winter months are when the most ER visits and deaths from CO poisoning occur as more households begin using their furnaces and heaters.
In fact, home heating sources are the number-one cause of CO poisoning fatalities. CO is found in fumes produced by gas furnaces, kerosene heaters, stoves, lanterns, gas ranges, portable generators, or by burning charcoal and wood. A car left in a garage to "heat up" is also a source of CO.
Let's take a look at some other statistics from the National Carbon Monoxide Awareness Association (NCOAA):
95,000 CO poisonings occur in the US per year
50,000 ER visits occur in the US per year
Only 14% of US homes have CO alarms installed
Children are especially vulnerable to CO poisoning
How Can I Protect My Family from CO Poisoning?
Install and test CO alarms. CO is an odorless gas. CO alarms and detectors are the only way to detect CO and they should be installed on every level of the home, in every bedroom, and outside each sleeping area. Check and replace the batteries as needed twice a year when you change the time on your clocks in the spring and fall.
Schedule annual maintenance for gas furnaces: Although gas furnaces are equipped with safety features in the event of a gas leak, they're not fail-proof. During annual furnace maintenance, we'll check your gas furnace for any safety hazards.
Schedule inspections for other fuel-burning appliances: Schedule an inspection of all fuel-burning appliances such as stoves, fireplaces, clothes dryers, and water heaters.
Run kitchen vents or exhaust fans when cooking: This is also the time of year when people use their stovetops and ovens more frequently. Always run your exhaust fans when cooking and baking. Open a kitchen window to air out the room periodically.
Don't use generators indoors: If your power goes out and you're using a portable generator, never use it inside your home. That includes the garage or any other confined space! Also, you should never use charcoal grills, camp stoves, or similar devices inside your home or garage.
Don't leave the car running in a garage: Even if the garage door is open, you should never leave a car to "heat up" in a garage.
Call the friendly staff at Boehmer Heating & Cooling for exceptional customer service! Schedule gas furnace services in Butler County with our team today.