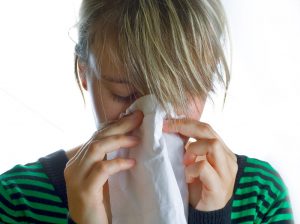 We talk a lot on this blog about how important indoor air quality (IAQ) is. That's because a lot of homeowners think that their IAQ isn't "that bad." We're not trying to cause unnecessary stress in our readers and we certainly don't believe in pushing products that we don't think would vastly improve the quality of life for homeowners.
To illustrate just how problematic poor IAQ is, here's a list of five frightening facts about indoor air quality that may surprise you. The good thing about poor IAQ is that improving it is as simple as giving us a call for indoor air quality services. From air purifiers to air cleaners, we can recommend a system that'll combat poor air in your home.
1. Indoor Air Can Be Up To 100 Times Worse Than Outside Air
A statistic reported by the Environmental Protection Agenc (EPA) is that in the majority of households across the US, the level of indoor air pollution is generally 2-5 times more polluted than the outside air. In extreme circumstances, some homes have reported having air that is 100 times more polluted than the outside air.
2. The EPA Ranks Indoor Air Pollution as a Major Risk to Public Health
The EPA has included indoor air pollution as one of the top 5 hazards to public health.
3. Common, Everyday Pollutants Are Found in All Homes
So what's causing all this indoor pollution? Common items found in just about every household contribute to poor IAQ. Candles, household cleansers, and even air fresheners can decrease your air quality. Check out what's on this list of common pollutants from the National Institute of Environmental Health Sciences.
Cleaners, disinfectants, and air fresheners emit dangerous volatile organic compounds (VOCs)
Allergens
Carbon monoxide is found in fumes produced by the burning of fuel in cars, small engines, stoves, lanterns, grills, fireplaces, gas ranges, or furnaces
Formaldehyde is found in some pressed wood furniture, wood particle cabinets, flooring, carpets, and fabrics and as a component of some glues, adhesives, and paint
Lead is found in products including gasoline, paint, plumbing pipes, ceramics, solders, batteries, and cosmetics.
Mold is a type of fungus that thrives in damp places
Pesticides
Pests such as mice, rats, cockroaches, termites, and their feces
Pet and human dander
Radon is a colorless, odorless, naturally occurring gas that comes from the decay of radioactive elements in soils and can enter indoor spaces through cracks or gaps in buildings.
Smoke from cigarettes, cookstoves, and wildfires
4. Pediatric Asthma Rates Have Increased by 73%
Studies have shown that pediatric asthma rates have increased significantly over the last forty years with a total increase of nearly 73%. Pediatric asthma is the leading chronic illness for children in the US and indoor air pollutants have been directly tied to causing or increasing the risk of asthma in children.
5. Illnesses Caused or Exacerbated by Poor IAQ
The list of illnesses and diseases that are affected by poor IAQ is extensive. It includes headaches, eye irritation, fatigue, dry throat, sinus congestion, dizziness, nausea, asthma, emphysema, respiratory illnesses, respiratory infections, respiratory diseases, cardiovascular diseases, heart disease, strokes, and lung cancer.
Call the friendly staff at Boehmer Heating & Cooling for exceptional customer service! Schedule indoor air quality services in Butler County with our team today.