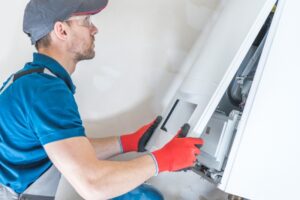 Get Your Furnace Professionally Tuned-Up
This is tip #1! Have you scheduled your furnace maintenance tune-up yet? If not, don't worry, it's not too late. In fact, in the absence of a total system breakdown, it's never too late. It's actually more important that you have this service done regularly (once a year) than at what time of the year it is. That said, fall is typically the time we recommend since it's right before when you'll need your system the most. Also, acting now means you can take advantage of our $99 gas furnace precision tune-up.
Change Your HVAC Air Filters
The air filter that comes standard with your HVAC systems is in place to protect those systems from dirt, dust, and other debris that can get inside and damage their sensitive components. When the air filter gets too clogged up with debris, it restricts airflow and causes a decline in overall efficiency. Therefore, changing this air filter every 1-3 months, depending on the type of filter, will help your heater (and air conditioner) work more efficiently.
Have Repairs Done Promptly
Did you know that HVAC maintenance can help you avoid up to 85% of the repair costs you might ever face during the lifespan of your system? This is because it's a service that lets our technicians catch problems when they're small before they grow into something much bigger. But this will really only help if you have those repairs that we alert you to done quickly.
Have a Home Energy Audit Done
If it's been a year or more since you've had a home energy audit done, now is a great time to do so. This allows our technicians to look for opportunities in your home where things can work more efficiently. For instance, you may have drafty windows and doors, or you could have damaged ductwork, etc.
Clean the Area Around Your Furnace (and AC unit)
Whether we're talking about the outdoor unit of your air conditioner or your furnace system, it's important to keep any debris at least two feet away from the system. Failing to do so can impact airflow and even safety in the case of a gas-powered furnace.
Make Sure Your Thermostat is Operating Okay
Be sure to take a look at your thermostat and determine that your air conditioner is cycling on and off when it should according to the settings you have on that thermostat. If it seems colder or warmer than you think it should be, it could be for a number of reasons. However, a miscalibrated thermostat can be the culprit.
If you have a year-round heat pump, you want to also make sure that your thermostat is going to be able to switch from cooling to heating mode with ease. If it can't do this, it's time to call in a pro!
Have Your Ductwork Checked
Did you know damaged ducts can account for you losing about 30% of your conditioned or heated air? This is energy you are paying to use, but not enjoying the benefits of. It may mean that you need professional duct sealing, repair, or replacement.
Our team is the one you can trust for fall HVAC maintenance and more. Call the friendly staff at Boehmer Heating & Cooling for exceptional customer service!