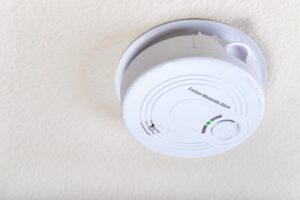 Keeping warm during a Pennsylvania winter is already a challenge in itself. It shouldn't be something that could cost you or your loved one their health. It is a sad fact, however, that lives are lost each year to a preventable heating issue that leaks deadly gas into your home.
We are, of course, discussing the threat presented by carbon monoxide in your home. There are multiple homes in the area that utilize natural gas as fuel for appliances in their home, such as their stove or your furnace. If that gas leaks into your home though, it can go from being helpful to harmful very quickly. Here are some facts that you should know about carbon monoxide and how to protect yourself from its effects.
3 Facts You Should Know About Carbon Monoxide
We all learned about the different gases that can be created in our world back in middle school science class. However, it may have been a while since those lessons so we want to make sure that you have a chance to brush up on your facts about CO gas and the harm it can cause.
Carbon monoxide is odorless and invisible. Carbon monoxide is often called the "Invisible Killer." This is because this gas is impossible to detect with any of our five senses. CO gas is completely odorless, tasteless, and invisible. Carbon monoxide detectors were created specifically to combat this.
CO can make you sick. Why is carbon monoxide so dangerous? Because it can make you severely ill or it can cost you your life. Carbon monoxide gets into your body and takes the space that oxygen would take which causes oxygen deprivation. If this goes on long enough it will cause headaches, dizziness, nausea, and can even lead to a coma and death.
Your furnace can leak carbon monoxide it needs repairs. Do you have a natural gas furnace? Part of the heating process that your furnace goes through is the creation of combustion gases, one of which is CO. If your furnace ages too far or falls into disrepair, it may increase the risk that it will develop a crack that allows this gas to leak into your home.
How To Protect Your Home and Your Health
We know that the worry of carbon monoxide poisoning can lead some to want to ditch their natural gas appliances. However, you should know this isn't necessary. All you need to do is take the required steps to keep your home and yourself safe from harm. These include:
Making sure that you have carbon monoxide detectors that are in working order. These systems can be your first line of defense against carbon monoxide poisoning.
Scheduling regular maintenance and repairs for your Canonsburg, PA HVAC system. Maintenance can help to prevent issues with your furnace such as gas leaks. If a leak does appear, a call to professionals to repair the issue will address this issue to help keep your household safe.
Keeping your home safe and warm is something that the technicians at Boehmer Heating & Cooling can help with. Call the friendly staff at Boehmer Heating & Cooling for exceptional customer service!