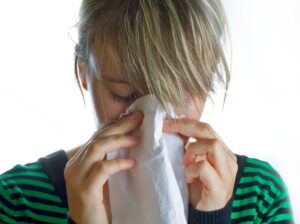 You might not realize this, but there's a very good chance that your indoor air quality is worse than that of outdoors. At least, this is true if your home doesn't have the right indoor air quality products and services in place. And it's especially true if you have a newer home. This is because homes today are built very tightly to allow for optimal HVAC efficiency—great news for your air conditioner or heater, but not so great for your allergy or asthma symptoms!
Fortunately, there are a number of indoor air quality solutions that can help with this! When you run either one of your HVAC units, they do draw in air, but the air filters that are in place aren't designed to remove a high level of contaminants—those air filters are simply meant to protect the HVAC systems themselves. It's time to look beyond the standard HVAC air filter! Consider these 3 methods to improve indoor air quality.
Seal Up Your Home
This means closing up any spots in your home that may be a source of an air leak. This can include window frames, doorways, and door frames. These spots should be sealed with things like weatherstripping or caulking so your indoor air won't sneak out and contaminants won't sneak in.
Another place to consider sealing is your ductwork. Ductwork breaches not only lead to highly inefficient HVAC operation, but also invite things like mold spores, dust, and other pollutants inside, which bring us to our second point.
Have Your Ducts Checked
Dust and debris can make their way into your ductwork, even if you change your air filters regularly and keep your home clean. It's wise to have your ductwork checked by HVAC professionals—we'll ensure you don't have ductwork damage that could be leaking conditioned air or introducing contaminants into your indoor air.
Professional duct cleaning could also be necessary. This is a service you should have done every 3 years or so.
Consider an Air Purifier Installation
If anyone in your home suffers from allergies, asthma, or any other respiratory conditions, there may be something you can do to help! One of the best indoor air quality systems to invest in is a whole-house air purifier.
Portable air purifiers are great for a single room or so, but whole-house air purifiers and air cleaners tackle your entire home. Whole-house systems work differently depending on what type you have. For instance, an electronic air purifier pulls contaminants out of the air, while a UV air purifier tackles contaminants already within your ductwork.
These can include mold spores, bacteria, and viruses. UV purifiers effectively destroy and prevent further microorganisms from developing inside your ductwork so that they never have the chance to reach your indoor air, ensuring better health for your entire household.
Whether you're shopping for an air purifier in Canonsburg, PA, or looking into other indoor air quality solutions, we're the team to rely on. Call the friendly staff at Boehmer Heating & Cooling for exceptional customer service!