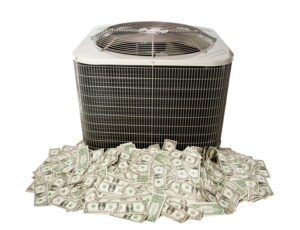 Maintenance. It's one of those words you've probably heard, but maybe not given a whole lot of thought to in relation to your home comfort systems. If you own a vehicle, you probably have maintenance done for that, right? Maintenance is what helps you rely on its ability to keep getting you from point A to point B for years and years, as efficiently as possible.
Well, this same concept applies to your HVAC systems. Maintenance helps your air conditioner, and your heater, operate as efficiently and effectively as possible, for as long as possible. It reduces repair needs by as much as 85% and helps your systems retain 95% of their original efficiency rating.
And a maintenance program offers you even more. In fact, the question shouldn't be, "are HVAC maintenance agreements worth the money," it should be, "Can I afford to go without a maintenance agreement?" Read on to learn more!
Our Maintenance Agreement Benefits
Ask about our Plus and Signature maintenance agreements! In addition to the benefits mentioned above of maintenance in general, our maintenance agreement members get a whole host of additional advantages over non-maintenance agreement members. This includes:
Lower energy bills
Extended equipment life
Fewer repairs
Improved capacity
Priority customer status
Inflation protection
Agreement is transferable
Never an overtime Charge
Improved safety
Emergency Service Today
The Plus plan includes a 15% discount on repairs and a reduced diagnostic charge
The Signature plan includes no additional labor charge, no diagnostic charge and new equipment discounts (certain restrictions apply)
Both plans include our Precision Tune-Up, which involves cleaning and adjusting the burner assembly of your heater, examining the heat exchanger, cleaning or replacing standard air filters, testing starting capabilities and safety controls, and much more.
Additionally, our maintenance agreement members get peace of mind. Rest easy knowing that we're always here to ensure your HVAC systems are kept running at maximum safety and performance. We'll keep you on schedule to make sure you don't miss a tune-up.
How Often Should You Have Maintenance Done?
A standard air conditioner or heating system needs to have maintenance done once a year. This means that if you have a year-round heat pump system, you should have a tune-up every 6 months.
Consistency definitely matters more than timing, here. Sure, we do recommend that you have maintenance done for your air conditioner in the early spring. This is because it's before you'll need your cooling system the most, so it gives our technicians the chance to comprehensively inspect, clean, and adjust the components that need it before it has to go to work. It also allows us to catch repair needs early on—small wear and tear items that could otherwise turn into much bigger emergency repairs if left unchecked.
But as long as you are having professional maintenance done every year, the time of the year doesn't matter as much. You'll likely find it more convenient for your schedule though if you stick to early spring for your AC maintenance and early fall for your heating maintenance.
Our team is the one you can trust for all your HVAC needs, including quality AC maintenance in Pittsburgh. Call the friendly staff at Boehmer Heating & Cooling for exceptional customer service and to enroll in our maintenance program!