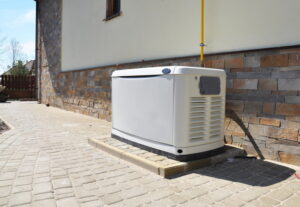 When we talk about the different types of generators, we're generally referring to two basic types: the portable generator, or the whole-house generator. The latter is the one that's going to give you the most bang for your buck.
This isn't to say there is anything wrong with a portable generator. Portable systems are a great option for many scenarios, like if you're going on a camp out and want to power up a cooktop, or maybe you're "glamping" and want to turn on a TV! We're not here to judge.
But what you should know about a portable generator is that while it's a great option for short-term, specific use, the one situation where it really isn't the right choice is if you want to power your entire home during a widespread power outage. In this scenario, you'll want a whole-home automatic standby generator.
The best time to have one of these installed is in the spring, so right now! This prepares you for summer storms that could come our way and knock out power, leaving you without your HVAC systems, your refrigerator, and other important home components. Read on to learn more about why the whole-house generator is the right option to buy, and what you should know about these systems.
Whole-House Systems Are Fuel-Efficient
Portable generator systems require a tank of propane or gasoline in order to run. This means that you will always have to have this tank on hand if you need to use it during a power outage, and you may even need to buy more depending on how long the outage lasts.
Whole-house generators, on the other hand, can be hooked right up to your home's natural gas line. This means it will be ready whenever the power goes out–you don't even have to turn it on and you don't need to worry about making a trip to get more fuel or having fuel delivered to your home.
Automatic Standby Generators Are Convenient
There's a reason that automatic standby generators have become the gold standard when it comes to whole-house systems. They sitch on automatically when your power goes out, as they are always on standby. Granted, it is important to have your whole-house generator professional inspected on an annual basis to make sure it stays in good shape! But, you don't need to worry about going out and switching anything on in the middle of the night, or in the middle of a storm!
The moment your home's power goes out, the whole-house standby generator will activate to deal with the issue, and keep everything running smoothly.
Safety!
This is a big one. Portable generators are not inherently dangerous, but it's easy for them to become hazardous if not stored, used, or maintained as they should be. A whole-house automatic standby generator is powered by the municipal gas line that runs into your home, and can be easily ventilated by our professionals to keep fumes far away… so nothin but fresh air surrounds your home.
Call the friendly staff at Boehmer Heating & Cooling for exceptional customer service! We are your trusted resource for Pittsburgh generator services and more. Contact us today!