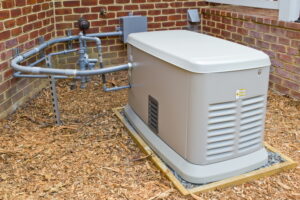 Extreme weather and increased demands on the power grid are causing more frequent power outages and surges. As a homeowner, you may be wondering what you can do to protect your home in both situations.
Portable generators and store-bought surge protectors are options, but they have their shortcomings and can only do so much. We can install whole house surge protectors and a standby or whole house generator in your Pittsburgh, PA home to give you peace of mind during the next major power outage.
What's Wrong with Portable Generators?
Portable generators have many shortcomings when it comes to keeping a house powered on during an outage.
They emit carbon monoxide and are potentially dangerous if not set up correctly.
They have to be manually started so if you're not home when the power goes out, they're not doing any good.
Their output capacity is small so you'll only be able to power a few items in your home.
Keeping gas or propane on hand is a huge inconvenience.
Their small fuel tanks mean they require refilling several times a day which isn't ideal in extreme weather conditions.
Benefits of Whole House Generators
You can keep your whole house powered on during an outage. You won't have to pick and choose what gets power. Your appliances, alarm system, HVAC system, internet, and lights will work as they normally do.
They can switch themselves by detecting when the power has gone out. That means you don't have to be home to turn them on.
You can get up to a 5% discount on your homeowner's insurance by getting one installed.
They'll increase your property value and are considered a strong selling feature for potential buyers.
They're a lot safer to run because they don't use gas or propane.
You won't have to worry about getting fuel or refilling them multiple times a day like you would with a portable generator.
What's Wrong with Store-Bought Surge Protectors?
Although individual, store-bought surge protectors are easy to purchase and install, many smart devices such as appliances and thermostats can't be plugged into them. Surge protectors add only a small layer of protection and they need to be replaced frequently. To guard against frequent electrical surges that occur multiple times on a daily basis, you need a whole house surge protector.
Benefits of Whole House Surge Protectors
Whole house surge protectors are aptly named because they protect your whole house from power surges. Our team of professionals can install a system directly into your home's electrical panel where the electricity from the grid enters your home and divides it into individual circuits.
This sends excess voltage down into the ground rather than into the electrical system. This prevents surges in voltage from reaching the appliances and electrical equipment in your home. It can also handle extreme surges from storms or ones that can occur from the power grid.
Call the friendly staff at Boehmer Heating & Cooling for exceptional customer service! Schedule your whole house surge protector or generator installation with our team today.