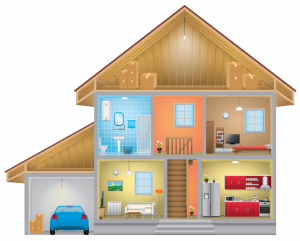 You may have heard about the benefits available to homeowners through the Inflation Reduction Act (IRA). What's well-known about this act is that it provides rebates and tax incentives for homeowners to upgrade their HVAC systems. What's not as well known is the fact that the IRA has also made provisions for homeowners to receive a discount on a home energy audit.
You've probably never even heard of a home energy audit, let alone how to save money on one. In a nutshell, a home energy audit checks for energy wastage in your home. If you're at all concerned about wasted energy or high utility bills, we can conduct a meticulous home energy audit in your Pittsburgh home.
Home Energy Audits and the IRA
One of the IRA's priorities is making homes in the US as energy efficient as they can be. Naturally, the best way to determine that is by getting a home energy audit. The IRA allows homeowners to claim 30% of costs with a maximum benefit of $150.
These assessments can reveal areas of your home where the most energy wastage is occurring. Once you know where there's room for improvement, you can properly prioritize those upgrades and maintenance.
Common issues that are typically found during an energy audit are also covered. For example, a typical loss of a home's energy comes from poor insulation which can account for 35-45% of heat loss. Depending on your household income, you can receive up to $1600 for improvements related to insulation, air sealing, and ventilation.
What Happens During an Energy Audit?
Our energy advisors are highly trained with extensive knowledge about building science. During a home energy audit, we'll conduct a thorough evaluation to check for common household problems such as:
Air Leaks
Insufficient Insulation
Moisture
Defective Ducts
Gas Leaks
Ventilation
Inefficient Lighting and Appliances
After your home energy audit is completed and assessed by our team of experts, we'll provide options and the cost of solutions. We'll also provide an estimate of how much energy savings you stand to gain by making these improvements.
Some of the things we might suggest include:
HVAC System Upgrades
Ductwork Repair or Replacement
Air Sealing and Insulation
Replacement Windows and Doors
Indoor Air Quality Solutions
After reviewing the audit report and potential solutions, it's your call on which improvements we make. However, we can advise you on how to maximize all the various tax credits and rebates available through the IRA so that you'll see the biggest return. Staggering your improvements is a great way to maximize the amount of money you can get back. We can advise you on which improvements to make and when.
Keeping your home comfortable throughout the year while paying the least amount possible to achieve that is a goal that every homeowner should make. The IRA is helping homeowners achieve this goal and we can help you maximize the benefits..
Call the friendly staff at Boehmer Heating & Cooling for exceptional customer service! Schedule your home energy audit with our team today.