Extreme heatwaves are an issue that is becoming more common across the US. In fact, we've already experienced some unusually high temperatures here in Pittsburgh and we're not even halfway through the summer.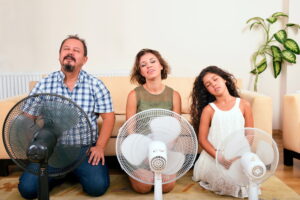 When a heatwave is in the forecast, many homeowners want to know what they can do to not just stay comfortable, but to stay safe in their homes. It's also important to know how to set your thermostat during extreme heat. Let's go over 3 tips for how to stay safe and comfortable during record-high temperatures.
1. Adjust Your Thermostat
It's important to know what temperature you should set your thermostat at during a heatwave. Setting it in the 60s or even the low 70s isn't always feasible when outside temperatures skyrocket.
Overall, an AC system can achieve a maximum 20-degree difference between the outside air and the inside air. So when it's 80° F outside, your AC shouldn't have a problem reaching 70° F.
However, if it's 90° F outside, expecting your air conditioner to easily reach 70° F is unreasonable. When you set your thermostat too low, it can overwork the system, resulting in decreased performance and a potential interruption in service. And that's something you don't want to experience during a heatwave.
It's recommended that you set your AC at 78°F during extreme heat. Or, just try and raise the thermostat to the highest temperature that your family finds comfortable.
2. Use Other Methods to Keep Your Home Cool
There are other ways to make your home feel cooler that aren't reliant on the temperature on the thermostat. If your home has ceiling fans, be sure to utilize them. Make sure they're set counterclockwise to help create a downdraft which creates that direct, cooling breeze.
And although portable fans don't decrease the temperature, they'll help make you feel cooler by increasing the airflow in your home. Be sure to keep your window shades and curtains drawn during a heatwave, especially in rooms that receive direct sunlight. 
If you have central AC, you can also keep your home's interior doors open to generate good airflow. But it's better to close the door to a room that's particularly sunny or has a lot of windows since that room generates a lot of heat. If you have a mini split system, you can cool just 1-2 rooms that you spend the most time in.
3. Schedule AC Maintenance
It's never too late in the season to schedule a tune-up for your AC. If your AC hasn't had maintenance in a while and the forecast calls for extended high temperatures, give us a call. Regular maintenance is the absolute best way to avoid AC repair and help your AC work at peak performance and efficiency.
It also gives us a chance to catch any potential minor problems before they become major headaches down the road.
We hope these tips will help you keep cool during the next period of extended high temperatures!
Call the friendly staff at Boehmer Heating & Cooling for exceptional customer service! Schedule your air conditioning services with our team today.