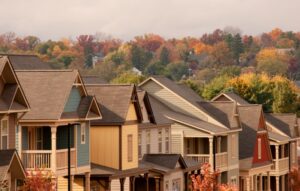 You might be wondering, after seeing the title of this blog post, "why on earth are they talking about winter already?"
Don't worry, we get it! It's still blazing hot in most parts of the country and we're all still using our air conditioners on a pretty regular basis.
But the fact of the matter is if you plan to vacate your home for an extended period of time this coming fall or winter, now is the perfect time to talk about how to prepare for that. Specifically, how to prepare your home for that—so that you can come back to a comfortable and reliable living space when you return. Read on as we go through a checklist of tips for how to prepare your vacant home for winter.
Tip #1: Install or Maintain Your Generator
Do you have a whole-home generator already installed? Great! You're in good shape, then. A whole-house generator is an ideal choice over portable systems, especially when your home is going to be vacant for a week or more. Installed outside of your home, similar to the condenser unit of your air conditioner, your generator is hooked up to the natural gas line, and is set to come on when the power in your home goes out.
You might wonder why you would need this when you're not going to be home anyway. Well—what about your refrigerator or freezer? It's rare that homeowners completely empty these out before they go on vacation, and the last thing you want to do is come home to spoiled food.
If you have pets at home, you'll likely have someone coming to check in on them while you're gone, but what about keeping them warm? If the power goes out, your thermostat won't be able to signal to your furnace that it's time to cycle on.
There are a number of other benefits of having an automatic standby, whole-house generator installed, but these are just a couple. Of course, if you already have one installed, you'll want to make sure that it's properly maintained so you can rely on it to cycle on if there's a power outage while you're gone.
Tip #2: Have Your Furnace Maintained
Like we mentioned above, you may have your reasons for having your furnace run while you're gone (like pets, or even houseplants). Even if that's not the case though and you're going to shut your furnace off for a couple of weeks while you jet down to Florida for warmer weather, you'll still want a reliable heating system waiting for you when you return home.
Annual professional maintenance helps your heating system work as efficiently and effectively as possible, for as long as possible!
Tip #3: Have an Energy Audit Done
What's an energy audit? This is a professional service we provide that checks your home for air leaks and anything else that can contribute to energy loss. This will help ensure that your home works as efficiently as possible for you when you return.
For professional HVAC maintenance, generator repair in Pittsburgh, PA, and much more, contact Boehmer Heating & Cooling today!