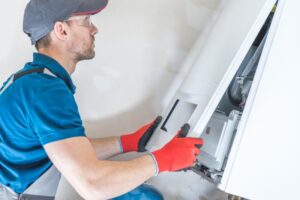 We probably don't need to tell you just how important a well-functioning heating system is in our part of the country. We can deal with some pretty harsh winters, which can sometimes stretch into spring. A home's heating system–no matter what type–is vital to helping your family getting through the cooler months comfortably and healthfully.
But even if you know how important it is to have maintenance done, you might be tempted to skip it. After all, it's another cost to incur, and if your heater is on the newer side, who cares, right?
We really want to encourage our customers to put this notion aside and consider what they can save by having maintenance done, versus what maintenance will cost them. Because the truth is, skipping maintenance will cost you a lot more. Read on to learn the true cost of not maintaining your heater this fall.
A Sudden Heating System Breakdown
During maintenance, our technicians thoroughly inspect, clean, and adjust your heating system, making sure that it's operating as it should. This service helps reduce strain and natural wear and tear on the system so that it is less likely to have a mishap.
The last thing you need is to be trapped on a cold day with no heat, trying to get emergency repairs done at a time where many of your neighbors are trying to get the same service done. Maintaining your heater before fall and winter is a fantastic sort of insurance policy against this very inconvenient and potentially unhealthy problem.
Excessive Repair Needs
Did you know that up to 85% of the repairs that a heating system might ever need are actually preventable, thanks to routine maintenance? This isn't the majority, it's almost all of them. This is because during maintenance, we check for small repair needs… things that are a natural part of wear and tear. This can include lubrication wearing down on motor bearings.
Where re-lubricating the motors is quick and simple for our team, and not considered a repair–not knowing you need this because you skipped maintenance means your motor could overheat and you'll be repairing an entire component–potentially even replacing the motor.
Higher Than Average Utility Bills
Take a look at your energy bills. Are they a lot higher than they were this same time last year? Maybe compare them to what your neighbors are paying. If yours are drastically higher than they should be, it means something in your home is working inefficiently, and it could very well be your heating system.
On average, every year your system goes without maintenance, it loses about 5% of its efficiency. But a heater with maintenance will maintain about 95% of its original efficiency (AFUE) throughout its lifetime.
Potentially Unsafe Operation
Maintenance is especially important in the case of gas-powered heaters. While your furnace is not inherently dangerous, it could become so. When gas-powered heating systems get older, they start to break down and accumulate damage. Some of this damage could be small cracks in the heat exchanger.
This may sound benign, but actually, it exposes you and your family to harmful carbon monoxide, a tasteless and odorless gas that has been attributed to many illnesses and fatalities throughout the country. We say this not to scare you, but to urge the importance of routine heating maintenance, especially in a system that's over a decade old!
It's also a good idea, if you haven't already, to have a carbon monoxide detector installed in your home no matter what type of gas-powered appliances you have–including fireplaces.
When you're ready to schedule professional HVAC maintenance in Pittsburgh, PA, contact Boehmer Heating & Cooling!