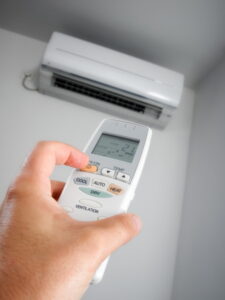 If you are the owner of an old home in the Pittsburgh area, there are probably many reasons to love it! However, it might not have come with one important component for modern Pittsburgh homes–centralized air conditioning.
While our summers aren't as brutal as other parts of the country, like down in Florida, it goes without saying that it gets hot and you require much more than a few fans to get through it each summer. Perhaps you already have window units in place but are there other options if you can't accommodate the bulky ductwork required for a central AC system?
Why, yes, there are! Read on to learn more.
Portable Air Conditioners
Now, windows and portable air conditioners that you can extend ductwork to a window with are out there, and today's models are much more efficient than those of the past. Of course, they are going to drain more power than a refrigerant-based central air conditioner, but you can still benefit from some better cooling in your home.
The other, more preferable option for many, is a ductless system!
Ductless Air Conditioning
Ductless systems, also known as ductless mini-splits, operate on heat pump technology. This means not only are they powerful and effective cooling systems, but they can also serve as efficient heaters all with the simple program change on your thermostat from cooling to heating mode.
Ductless systems have a single outdoor unit, that can be connected to up to four indoor air handlers. These indoor air handlers are most often installed by being mounted high up on the walls in the rooms where you need them. They're independently controlled from each other, so you can adjust your cooling (and heating) preferences depending on the room.
This is especially beneficial for older homes that might not have the greatest insulation (which is another thing we can help with–ask us about our home performance services!) plus it saves space. All that is required for ductless air handler installation is that a small hole is drilled into the wall behind each air handler for the conduit to go through–that is, component that houses the power line, condensate line, and refrigerant line.
Many homeowners with older homes like the zone control feature of a ductless system. As we mentioned above, each of the air handlers in the ductless setup is capable of functioning separately from the others. You can utilize remotes for the units to turn on only the ones you need. For instance, if you're cooking in the kitchen, you may need more cooling in there than say in your living room.
Energy savings is another reason people choose to go ductless. They use smaller motors than conventional heat pumps, and don't drain as much power as window or portable air conditioners either. Plus, with a lack of ductwork, you don't have to worry about any indoor air quality issues that could become inherent with a ducted system.
Please don't hesitate to reach out to our team with any questions you might have about ductless systems!
We're the team to turn to for all your Pittsburgh air conditioning needs. Call the friendly staff at Boehmer Heating & Cooling for exceptional customer service!