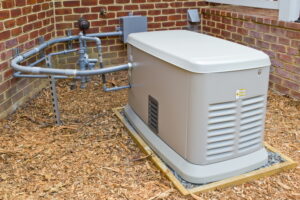 If you haven't already discovered this yourself as a homeowner, then you should know—portable generators can be a huge hassle. First off, they can impose a safety risk, running on stored gasoline that poses the opportunity for carbon monoxide poisoning in your living space. They can also be very inefficient, when you consider the cost-fuel perspective. Plus, they're inconvenient! Weather could very well be the reason you have to turn it on, and that requires you going outside in that bad weather.
Fortunately, we're not here to sell you a portable generator (that wouldn't be a very good sales pitch, right?) Instead, we're here to introduce you to the benefits of a whole-house generator, which is arguable the better and more desirable alternative. Read on as we uncover the benefits of this system and how different it is from a portable unit, and get ready to face any power outage you may experience with confidence that it won't be a problem in your household.
Exploring the Benefits of a Whole-House Generator
Before we get into what it takes to maintain a whole-house generator, we want to talk about what the various benefits of a whole-house system are over a portable unit.
Whole-house generators are automatic, standby generators that hook up to your home's electrical system while being powered by natural gas for the main gas line in your neighborhood, instead of a storage tank on your property. They automatically cycle on when the power goes out, and runs very efficiently, resulting in the following:
Standby Convenience: You won't have to worry about wheeling out a generator and filling it with fuel before a huge storm hits. Nor will you have to worry about being surprised by a non-weather related blackout.
Efficiency: Storing gasoline or propane is inconvenient not to mention expensive. Plus, what if you never have to use it? Then you have it sitting there, posing a danger to the health and safety of your household.
Safe: Safety is key, here. Portable standby generators are far safer to operate than portable systems. A portable generator that runs on stored gas or propane releases hazardous fumes, and if too much gets into your home—namely carbon monoxide—the results can be catastrophic.
Maintaining Your Whole-House Generator
So, the draw of portable generators is that they're cheaper to install than a standby, whole-house generator. When you buy one, you'll likely use it until it breaks down and you buy another one.
That's not really an option with a whole-house system. You want it to last as long as possible! And that means you have to keep it well-maintained throughout the years. Annual generator maintenance will allow our technicians to check for things like frayed wiring or other damage. We'll ensure that everything is in good shape so you can rely on that generator whenever you need it.
While a generator is something you kind of hope you'll never need, it's a thing you'll be very grateful to have if you do need it.
Call the friendly staff at Boehmer Heating & Cooling for exceptional generator services, including generator maintenance in Pittsburgh, PA.