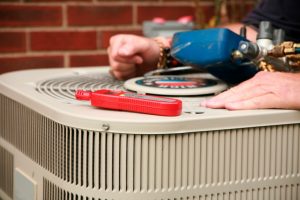 Soon enough, you can expect to start using your air conditioner all the time. The heat and humidity will not be tolerable for very long unless you are relaxing at the lake with a cold beverage in hand—or spending time indoors with the air conditioner. If your AC system breaks down on a hot day, you're in trouble.
You can schedule an AC tune-up to help prevent this type of situation. This service, provided by professional HVAC technicians, offers many benefits to the AC system and to the homeowner, as long as you schedule this service early in the year—and preferably every year.
The Sooner, The Better
Don't wait until the sun is blazing down to schedule your AC tune-up. This is not the type of service you schedule when you find something wrong with your air conditioning system. It's a preventative measure that keeps your air conditioner running smoothly throughout the summer, so that you don't have to deal with problems in the first place. There are two ways routine maintenance helps to prevent trouble later on.
Inspection and Notification – Any maintenance appointment should include a thorough inspection of the air conditioning equipment. Technicians will test voltage and refrigerant pressure and complete a visual inspection. You are notified of any problems and must schedule a follow-up for many air conditioning repairs. However, this means you won't have to deal with problems in the middle of summer, when you need your AC the most.
Tune-up – Not all air conditioning issues require a separate appointment, though. Complete air conditioner tune-ups include adjustments of certain components (oiling motors, tightening electrical connections, etc.) to improve system performance. The coil is cleaned, the filter is checked, and any debris is removed from the system. All of this helps to prevent sudden AC failure by getting the system in check.
It's always best to schedule your AC maintenance appointment in the early spring. This is the time when technicians have the most availability. You can get a good deal on service, and take your time scheduling any follow-ups.
Save Money
Besides, early AC maintenance can help you to save money all throughout the air conditioning season. In a humid area like ours, homeowners tend to spend far too much on cooling costs, at least during the summer months.
When your air conditioner gets a tune-up, it operates more efficiently. The moving parts are able to operate with less trouble, resulting in lower energy bills—not to mention the potential savings on repair costs. Air conditioners that receive regular tune-ups maintain about 95% of their original efficiency for most of their lifespans.
This is not the only way to save money on air conditioning before the season begins, however. A home energy audit is an assessment of your entire home to check for problems that affect your heating and cooling systems—like poor insulation or air leaks. Only select companies offer this service, so call our team for more information about a home performance assessment.
For AC service in McMurray, call Boehmer Heating & Cooling. We have been providing excellent customer service through three generations of our family-owned and operated business.