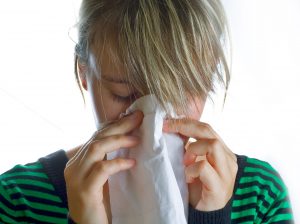 Did you know that about 20% of Americans are allergic to pollen? If you are one of the millions, you might notice that your symptoms don't discriminate based on location. Whether you are indoors or out, allergies can come up and bring you down, and this is particularly upsetting when you are in your own home.
Pollen allergies can act up anywhere—mostly because pollen can be just about anywhere. It travels well, moving easily in the air and into your lungs, but you may be able to take some control at home.
A Well-Sealed Home
First, you need a well-sealed home to prevent pollen from moving indoors in the first place. Sealing air leaks around pipes, windows, and doors can help improve home efficiency as well. We recommend using caulk for gaps around pipes and other spaces in the wall, and weather stripping to create a seal for doorways and some windows.
In addition, you can keep pollen out in the first place by setting a few ground rules.
Family members must remove shoes in entryway.
Remove outerwear at the doorway.
Change clothing when coming inside to relax, particularly if you've spent a lot of time outdoors that day.
Upgrade to a HEPA Filter
A HEPA filter is a high-efficiency particulate air filter. The media it uses to keep particles (like pollen) out of the air is more advanced than the standard air filter in a home. Ask a local technician about upgrading to a high-efficiency particulate air filter. In addition, look for this technology in a new vacuum cleaner!
Buyer beware, however. If your new air filter is too powerful, it may stop air from moving into the HVAC system at all. This can cause a lot of issues for your air conditioning and heating systems, so consult a professional heating and air conditioning technician before you upgrade. You might be better off adding an additional filtration system to the ducts than trying to update the standard filter.
Install a Whole-House Air Purifier
We recommend against using those small, plug-in, portable air purifiers if you really want to get the job done. Pollen can be anywhere in your home's air, but a plug-in unit only can clean the air directly near the unit.
For pollen allergies, you'll need an air purifier with more than just a UV light system for killing germs. While this is an excellent addition to any HVAC system, be sure your air purifying system also uses an ionization chamber to neutralize particles such as pollen so that they cling to a set of metal plates within the system.
See Your Allergist
Finally, if your spring allergies are just as bad, if not exacerbated indoors, it's time to see your allergist. Get tested for other allergens, as this may help you to target the problem. You may also be able to get a shot to keep allergies under control so that you are not suffering at all hours of the day.
For cleaner air in Pittsburgh, PA with indoor air quality products and expertise, call Boehmer Heating & Cooling.