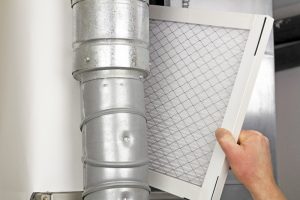 Soon enough, you'll be running your central air conditioner just as often as you ran your heating system this winter. In our part of the country, it can get pretty humid, so you may be anxious to get the air conditioner started up right away at the first sign of heat. But we're here to remind you that you cannot expect your air conditioner to run properly when you need it, unless you prepare.
Just like heating systems, air conditioning units need maintenance before the warmer weather is in full swing. Today, we'll talk about the importance of scheduling a maintenance visit in the spring and offer you more helpful advice for getting your air conditioner into gear. To learn more, contact your friendly local HVAC specialists.
Change Your Air Filter
You should change your air filter before the AC season begins and every 1-3 months afterwards. Many of our customers assume that you change an air filter so that you have clean air throughout the home, but the reasons for this maintenance task are actually mechanical. When you neglect to change a filter, all of the dust and dirt built up can block air from moving through the system, meaning you're less comfortable and you spend more money with each cooling cycle.
Turn Off Your Humidifier
If you live in an area where dry winters leave you running a humidifier for most of the season, remember that summers can be a lot different. Hot, humid winters and humidifiers simply don't match. All of that excess moisture in the air makes you feel warmer, since sweat cannot evaporate from your skin. It can also cause trouble for your air conditioner, including leaks, so don't forget to shut off your humidifier before you turn on your air conditioner.
Check Your Thermostat
Check your thermostat before the AC season starts and make sure the air conditioner actually reacts when you turn it on. Set the thermostat temperature to cooler than the temperature of the room, and switch it into cooling mode. Remember that "fan only" mode, or a similar setting, will not actually cool your home; it must be set to "cool."
Make Upgrades
Using a programmable thermostat to automatically change the temperature to its most efficient comfort levels throughout the day is an excellent way to save energy. If you're considering upgrading to a programmable thermostat or even a brand-new air conditioner, spring is the time to do it. Waiting too long to schedule an upgrade means you're stuck doing it in the heat of summer, when technicians may be busy and you'd rather not go for long without your air conditioner.
Schedule Maintenance
Finally, we want to remind you that annual air conditioning maintenance helps your system to run smoothly all season long. It may help to prevent air conditioner breakdowns and improve energy efficient, reducing overall wear and tear. An inspection helps you to catch potential repairs early so that you're not dealing with them in the middle of summer.
For air conditioning services in Baldwin-Whitehall, call the friendly, experienced team at Boehmer Heating & Cooling.