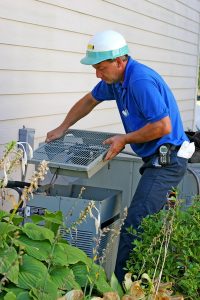 While homeowners in other parts of the country would consider our current weather chilly, around here we know it's just a matter of time before we need our cooling systems to work full force. When that time comes, are you ready?
The #1 thing you can to do prepare for the cooling season is to make sure your air conditioner is ready to work as efficiently and effectively as possible—through maintenance. During your AC maintenance session, otherwise called a tune-up, our technicians will fully inspect, clean, and adjust components that need it. It's also at this time that we'll recommend repairs, if needed, so you can get them on your schedule right away.
But what does all this really mean?
Maintenance is Your Ticket to Savings
One of the most common questions that homeowners ask is if it's really necessary to have maintenance done every spring. They're certain they can just skip a year here or there. The truth is, you really shouldn't skip service. Maintenance is not a "luxury" service but rather a needed step to ensure that your cooling system operates as it should so you're not paying more than you need to in order to keep comfortable. With maintenance, you'll achieve:
A More Reliable Cooling System: The most immediate advantage of getting annual AC maintenance done (or semi-annual, if you have a year-round heat pump), is that the equipment will be less likely to suffer a major operational failure over the summer when you need it the most. During the inspection process, our techs look at where your system has wear and tear that could lead to breakdowns. When we adjust components and clean parts that need it, that prevents further problems. All of this means you're a lot less likely to face sudden, costly, repair needs, therefore saving money!
Better Efficiency: The accumulation of wear and tear on an air conditioner creates more strain on the components of the system. In particular, we're referring to the blower motor. As your equipment tries to overcome the stress by running longer than necessary to cool your home, it raises your energy bills because of how inefficiently it's operating. With annual maintenance, your air conditioner should be able to retain 95% of its efficiency rating throughout its service life.
Longer Lasting Equipment: Most air conditioning systems should last about 10-15 years before requiring a replacement. This is only possible if the system has regular professional maintenance. Annual inspections and tune-ups help your air conditioner give you the best return on your investment, as they'll last longer as a result. This means you can save your money for something way more fun than a premature air conditioner replacement!
Fewer Repair Needs: Who wants to spend extra money each year to have their air conditioner repaired? Certainly not you! Around 85% of the repairs that an air conditioner might need during its service life are preventable, thanks to maintenance inspections that catch problems early on. This means more savings, with the absence of repair bills.
Call the friendly staff at Boehmer Heating & Cooling for exceptional customer service!