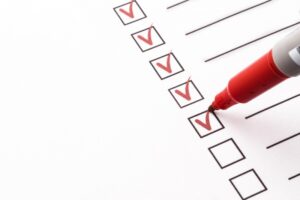 Spring is here, and that means the temperatures are beginning to warm up. If you haven't already switched your thermostat over to lower temperatures yet, you'll be doing so soon. You want to make sure that your air conditioner is ready to keep your home cool throughout the summer.
As important as it is to schedule maintenance with a team of professionals, you also want to review your own personal spring AC maintenance checklist. After all, you do have some responsibility as a homeowner to keep up with air conditioning maintenance in some ways. Keep reading to learn more about how you can maintain your air conditioner so that it lasts for a long time to come.
Air Filters
The best thing you can do for your air conditioner is to change the air filter regularly. Usually, your air filters need to be changed every 1-3 months during the cooling season. How often you change it depends on a number of factors such as how many people and pets are in your household. There may be times when your air filter gets dirty faster and you need to change it a bit sooner.
Leaving a dirty filter in place can block airflow in your HVAC system and even allow dust and dirt to get through. If the airflow is compromised, it can mean that your AC is working harder to produce the same results. And when dust and dirt enter your AC they recirculate through the air and compromise your indoor air quality (IAQ). 
Clean Around the Unit
After you change the air filter, you want to take a peek at your indoor air conditioning cabinet and your outdoor unit. Wipe down the surfaces, and get rid of any dirt and debris that are around the unit.
Inside, this may include pet fur and dust that have accumulated. Outdoors, this may mean leaves, twigs, and even grass that is growing around the unit. As you're completing the step, make a note of anything concerning and give us a call if you think that you need to schedule an appointment for maintenance ASAP. 
Check Your Thermostat
Before you expect your AC to cool your home, make sure that you have your thermostat on the correct settings. You want to switch to cooling mode, and then give your air conditioner a good 15 minutes to turn on and switch over completely. If you don't already have a smart thermostat, investing in one might make a big difference for your home this summer. It's a great way to monitor your energy usage, improve energy efficiency, and automate your temperature settings.
Schedule Pro Maintenance
At this point, you've done everything you can do as a homeowner. The next step is to have our team come out and take a look at your system. We can make sure that everything is running as it should and that any minor problems are addressed now before they become big problems later on.
Call the friendly staff at Boehmer Heating & Cooling for exceptional customer service! Schedule an appointment today for your AC maintenance needs.