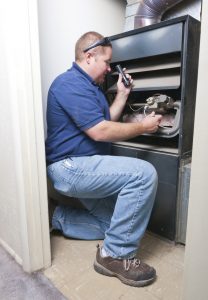 With the spring air growing warmer every day, you'll soon be using your air conditioner full-time and put your heater away until the fall. If there's a problem with your heater, now is the time to make any repairs you might have been waiting on until the spring. Enterprising do-it-yourselfers may be tempted to attempt heating repairs themselves, which is a huge mistake. Heating repairs require the services of a professional, with the proper licensing and experience that even the most adept layman can't hope to match.
Why should you summon a heating professional instead of trying to repair the system yourself? There are three very good reasons.
It's Dangerous
First and foremost, above all else, attempting heating repairs without proper training and formal licensing can be extremely dangerous. Inadvertently damaging electrical components can cause sparks that create fires, while gas furnaces can result in leaks. Thankfully, most modern heating systems possess safety features that keep the system turned off rather than risk a fire or a gas leak. But that still leaves you with a non-functioning furnace, and repairs are likely to cost more than they would when simply calling in a professional the first time the heater experiences trouble.
Professional Equipment
Laymen may have a working set of tools, such as wrenches, that can carry the day for basic household repairs. But many heater problems require specialty equipment to repair: the kind of equipment that a non-professional wouldn't use more than once or twice, but which professional repair technicians use on a weekly basis. That kind of equipment can solve the issue faster and more effectively, and hiring a professional means not having to pay for a prohibitively expensive tool. That involves a great deal of skill too, allowing the technician to work quickly without having to consult a YouTube video or check a repair manual somewhere.
Experience
The strongest tool that a professional brings to the table, however, is plain old-fashioned experience. No matter how handy you are around the house or how adept you are at fixing things, you likely haven't faced a furnace breakdown more than the tiniest handful of times at the most. Professionals, on the other hand, face issues very close to yours on a regular basis. They also keep up with the latest trends in the field and are familiar with a huge variety of furnace makes and models. They know how to use the various pieces of specialized equipment required to repair heaters properly, and with the insurance and bonding that comes with a licensed repair service, you're protected in the event of the unexpected.
All of that means that your heater will be repaired faster, more effectively, and with much less risk of the same problem cropping up again. If you detect problems with your heater, don't pick up your toolbox. Turn it off and call in a professional immediately.
If you need furnace repair in the Bethel Park, PA area, contact the friendly professionals at Boehmer Heating & Cooling today to make an appointment!