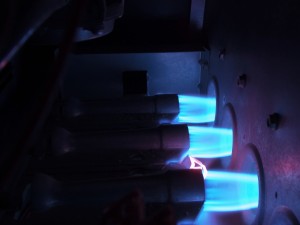 We encourage DIY enthusiasts to try their hands at something besides heating repair, most of the time. Repairing a heating system incorrectly can result in damage to the heater. Moreover, you might create a safety hazard for your home and family members.
However, we know it's frustrating to call in a technician for heating repair, only to learn you could have resolved the issue on your own. Often, we find that homeowners do not know about some of these methods of troubleshooting a faulty furnace. Try these steps before scheduling heating repair, and then call NATE-certified technicians when the problem cannot be solved quickly.
Check the Thermostat…Again
We know you have checked the thermostat already. However, thermostats can be difficult to read and understand, and there may be a setting accidentally switched on or off.
Check for a switch on the side. Was it accidentally moved over to "off" or to "cooling" mode?
Make sure the display does not read "fan only" or "unoccupied."
Try the "override" button if the settings are locked.
Change the batteries if there is no display at all on your thermostat.
Call the Gas Company
Of course, if there are other gas appliances on your property, you should try these first. Test out your oven, your water heater, or another gas appliance and make sure they are getting warm. If not, there is probably an issue with the gas meter or your gas company.
We have met folks who recently moved from warmer climates who are unaware that they needed to turn on the gas service at all! You may have missed a payment or two. Or, it's also possible that the local utility company has made a mistake or is experiencing problems.
Reset the Circuit Breaker
Find the circuit on your breaker panel that leads to the furnace. See if resetting that circuit makes a difference. This is a fast fix for a furnace that has tripped the breaker once or twice.
However, you should keep in mind that it is not normal for a furnace to continue to trip the breaker. If you have a heating system that often shuts down and needs resetting from the electrical box, it's time to call in a technician. Your furnace may not be set up properly, or a faulty component or safety switch could be the problem.
Change the Filter
If your furnace has not broken down completely, but it's just not working the way you would like, you may only need to change the filter. A dirty filter does more harm than you may think. The dirt and debris built up in the filter can block the flow of air moving along, which means your heating system malfunctions as it is unable to do its job.
Change the filter every 1-3 months. And try replacing it when the furnace malfunctions, whether or not the filter looks dirty or damaged.
When you do schedule heating repair, be sure to choose NATE-certified technicians with the right training and expertise for the job. Boehmer Heating & Cooling offers heating repair in Pittsburgh, PA. Contact us today.