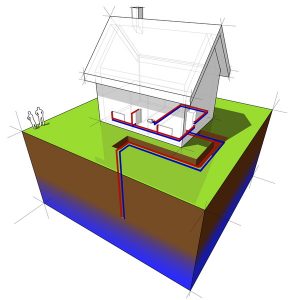 When you think about air conditioning and heating systems, you probably envision the traditional central split air conditioner and furnace combination. After all, that's what most homes in our area are equipped with.
And when most people hear the term geothermal, they're likely to think of heat. This makes sense–after all, the word thermal is right there in the name. As a matter of fact, geothermal heat pump systems are, indeed, a great way to bring warmth into a home. That's not all they do, though!
How Geothermal Cooling Works
Just like any other heat pump system, a geothermal heat pump has two functions—to heat in the wintertime and to cool in the summer. If you're thinking about making a change to your home during a remodel or landscaping update, or if you're building a home on new land, you'd do well to consider the installation of a geothermal cooling and heating system (these systems can be retrofitted to an existing home, though it will require significant digging in your yard).
When you rely on our expert professionals for your geothermal heat pump installation and services, you have nothing to worry about—but how does this all work?
The indoor components of a geothermal system (also sometimes referred to as a ground-source heat pump) are pretty similar to those of a standard air-source heat pump. There's a refrigerant coil where refrigerant is either condensed or evaporated, and a blower fan sends heated or cooled air into the ventilation system. But an air-source heat pump system using an outdoor coil to perform heat exchange, while a geothermal system uses loops buried beneath the ground.
These loops are placed about 6-10 feet down into the earth, which gives them access to a more stable temperature. When this geothermal system is in cooling mode, the refrigerant within absorbs heat from inside the home, then transfers that heat into the ground, essentially using the ground as a heat sink. The removal of heat from the house and the refrigerant process creates cooling.
In heating mode, this process is revered and heat is brought from the earth into your home.
What Are the Benefits?
You may be wondering if a cooling system of this caliber is worth the cost—and occasionally, inconvenience—of installation. While geothermal cooling isn't right for every home, and our team can help you make an educated decision, in most cases it's absolutely work it.
What makes geothermal cooling systems so different from traditional heat pumps, air conditioners, and furnaces, is that they're highly energy efficient and reliable. In fact, according to the U.S. Department of Energy, a geothermal system works at 3-6 times greater energy efficiency than an air-source heat pump!
Therefore, what you pay for this system installation will quickly be paid back in monthly energy savings. Plus, geothermal systems, due to their unique setup, are much better for the environment than any type of air-source heating or cooling system—making it well worth your careful consideration.
Call the friendly staff at Boehmer Heating & Cooling to get in touch with an expert Whitehall HVAC contractor to discuss the benefits of geothermal cooling and heating for your home.