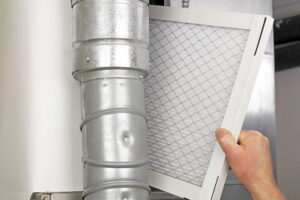 Did you know that the air filters that come standard with your HVAC systems aren't there to protect your indoor air quality at all? They certainly don't hurt, but they're actually in place to protect the interior components of the HVAC systems themselves from dirt, dust, and other debris that can get in and harm their components.
So, when we talk about air filters, we're talking about air filtration systems—systems that will help improve the health, breathability, and safety of your indoor air. And don't worry, finding just the right air filtration for you home isn't something we expect you to do all on your own. This is what we are here for! We are home comfort and home efficiency experts and you can count on us to lead you the right direction with your air filtration options, which all starts with MERV.
What Is MERV?
MERV stands for Minimum Efficiency Reporting Value, and is the rating that measures the strength of an air filter. MERV was invented in 1999, by ASHRAE, or the American Society of Heating, Refrigeration, and Air Conditioning Engineers.
To test MERV ratings, the effectiveness of a filter is measured against 12 different sizes of particles. From there, a MERV number is assigned to each filter based on these tests, and the number ranges from 1 to 16. The higher the MERV rating, the more efficient the filter is—that is, the more effective it is at trapping microscopic particles–measured in microns.
Understanding the Ratings
Here's some basic info about the various ratings:
MERV 1-4: Most often found in window or portable air conditioning systems as well as furnace systems, these are effective at protecting the systems themselves from debris, however, they are not very effective at trapping anything smaller than 10 microns, and therefore do not provide comprehensive indoor air quality protection.
MERV 5-8: These are the ones that are most often found in residences and commercial buildings in our area. They're good at stopping particles such as pollen, dust mites, and lint that comes from carpet and furniture, in addition to dust and most particles down to 3 microns.
MERV 9-12: These are considered "top-of-the-line" for residential use, and are most often found in large commercial settings and some medical settings. This filters are effective at stopping many finer particles, down to 1 micron in size.
MERV 13-16: These are the most effective air filters on the market, and rarely found in homes. Instead, they're used in surgery rooms, hospital in-patient facilities, computer clean rooms, and other industrial uses where complete sanitation is necessary. They're strong enough to stop bacteria and viruses.
You might be wondering at this point, that if it's within your budget, why wouldn't you just go with the strongest MERV filter? Well, because it can be too strong. When a filter is too effective, it actually can restrict airflow and therefore restrict the efficiency of your HVAC systems. So ultimately while they can help keep you healthy, they could also wear out your HVAC systems sooner and leave you paying more from month-to-month on your energy bills. The best way to find the right filtration match for your home is to give our team a call.
For expert HVAC services, including quality air conditioning repair in Whitehall, PA, contact Boehmer Heating & Cooling today!