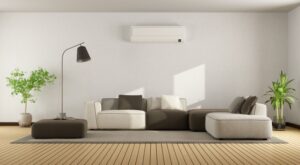 More and more homeowners these days are exploring the option of going ductless for their cooling needs, and for good reason. Ductless systems are highly efficient, and effective at providing individualized cooling throughout the home.
But that doesn't mean a ductless system is right for every home. Could it be right for yours? We'll explore the pros and cons of this system below.
First, What Is A Ductless System?
Ductless air conditioning and heating systems are a form of heat pump, and operate much like a conventional central air conditioner does. Using a refrigerant process, the pull in hot air from your home and expel the hot air outside, while chilling the air that comes back into your living space.
The difference with a ductless heat pump system is two-fold. First off, as the name implies it doesn't require any ductwork to do its job. Secondly, because it is a heat pump system it not only cools the home but has the capability to switch the refrigerant process and warm your home in the winter as well! So as you can see, they're very versatile.
Ductless System Pros
Ductless AC and heating systems are designed with two main components. The outside condenser unit is very similar in setup to the conventional central AC system condenser. But instead of being connected to a single indoor unit, each ductless system outdoor unit can serve up to 4 indoor air handlers, each of which can be controlled independently. These air handlers are most often wall-mounted, high up above a doorframe and out of the way. The pros of this setup include:
Ductless Systems Are Energy Efficient: Ductless systems are known for their energy efficiency, especially in comparison to window units, and even in comparison to standard central air conditioners because of their zoned cooling (and heating) capabilities.
Ductless Systems Can Work Independently: You have the capability to cool a single room independently from the rest of the home. Each air handler, so therefore each room, has its own thermostat so that you can control one unit without impacting the temperature throughout the whole house.
Ductless Systems Save Space: If you have degrading ductwork, or if you've never had ductwork, you'll find you have so much extra space without ductwork installation. Instead of filling your attic with ducts, you can use it for storage. Additionally, the wall-mounted air handlers make it possible for you to save floor space inside your property.
Ductless System Cons
If you already have a ducted system and your ductwork is in good shape, it might make more financial sense to forgo the ductless system for a traditional system. While ductless cooling and heating will save you money over the course of its lifetime in energy costs, you have your initial budget to keep in mind—the installation of a ductless system can be thousands more than that of a central air conditioner that doesn't need new air ducts.
A ductless system also isn't always the best choice for a small 1 or 2 bedroom home. It's an expensive installation when a central AC or even a couple of powerful window AC units may do the job.
Lastly, any type of heat pump system does struggle a little bit if temperatures get too cold, so you may need a furnace backup in the wintertime even though ductless systems are capable of providing warmth.
Keep in mind though, ductless systems are more efficient. So if the initial cost isn't too much to handle, you'll see hundreds, maybe even thousands, of dollars in savings over the course of each year that you use your ductless system.
Contact Boehmer Heating & Cooling for reliable AC repair in North Hills, PA!