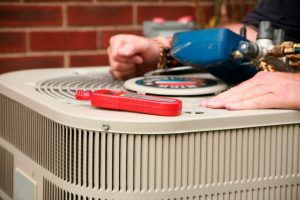 Spring is here, and that means mild weather and lots of rain. You're likely still using your home's heating system quite a bit this time of year, but soon enough you'll be turning on your air conditioner every day to keep cool while the temperatures soar. Before that happens, however, it pays to schedule a servicing session to your air conditioner. Not only can it avoid nasty surprises over the summer, but it will help your air conditioner do its job more effectively. Here's a breakdown of what it all entails.
What Is a Servicing Session?
You periodically get your car serviced: having the oil changed and checking on the various systems to make sure everything is functioning correctly. The same principle holds true with your air conditioning system. A servicing session entails a close look from the technician, who will go over every component and look for signs of potential trouble. Sometimes, such signs take very little to correct: replacing a loose bolt, for instance, or ensuring that the refrigerant levels are recharged. In that case, the issue can be corrected as part of the servicing session.
In some cases, a more thorough repair session is needed — something separate from the regular servicing session. This takes place if the problem is sufficiently advanced to require greater effort and more sophisticated tools. In most cases, such repairs can take place immediately after the servicing session, or else be scheduled for a time of the homeowner's convenience.
What Kinds of Benefits Does It Provide?
We recommend servicing sessions at least once a year at about this time. The advantages can vary from system to system, but they boil down to three specific benefits:
Lower Monthly Costs. Tightening loose bolts, lubricating moving parts and other steps in the servicing process help your air conditioner do its job without using quite so much fuel. That, in turn, will lower its monthly costs considerably. In addition, the lowered strain will reduce wear and tear on individual components, which in turn will reduce the chances of a breakdown or repair call in the middle of summer.
Easier Repairs. In the event more serious repairs are needed, a servicing session lets you get an early jump on them. In most cases, that will limit the costs since the damage hasn't had as much time to spread. It also means schedule repairs at a time that works for you, instead of having to rearrange your busy life in order to deal with an unexpected AC problem.
Longer Life. If you schedule servicing sessions on a regular basis, it's apt to pay off in the long run. Not only will repairs tend to be more infrequent and cost less later in the air conditioner's life, but its overall lifespan is apt to be extended by months or even years in some cases. Considering the costs of a new system, that can add up to quite a bit of savings.
For air conditioning service sessions throughout Pittsburgh, PA, call on the pros at Boehmer Heating and Cooling today!