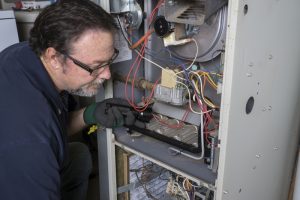 HVAC maintenance, also known as a tune-up, isn't something we just throw out as a recommendation to make a few extra bucks. We get it, it's an easy recommendation to pass over unless something is already seriously wrong with your air conditioner or heater. But whether it's all of the sudden or not, if you can't get any cooling on a sweltering day or heating on a freezing cold night, you're going to wish there had been some way to prevent it.
Well, there is. As we progress toward the cooler months, we encourage you to get a heating tune-up on your schedule if you haven't already. It really is one of the most important Pittsburgh furnace services you can have done, for a number of reasons that we'll get to below.
What Exactly Is Maintenance?
Can't you just be sure to change out the air filter every 1-3 months, make sure the outside unit of your AC and your indoor vents are clear of obstructions, and call it a day? Well, these are all important maintenance tasks you can do on your own, but professional maintenance involves our highly trained and experience technicians thoroughly inspecting, cleaning, and adjusting your HVAC system.
These adjustments will help improve the performance of your system. And if there are failing components or signs of wear that require repair, we'll alert you to those repair needs so you can get them on your schedule at your earliest convenience. Maintenance is a relatively quick way to give you the peace of mind that your heater will perform effectively and safely this fall and winter.
Speaking of Safety…
One of the main reasons to schedule HVAC maintenance, particularly heating maintenance, is for your comfort. Over the years, due to wear and tear on your systems, home comfort equipment tends to get less effective. Components wear down just as they do in a car or any other system you use routinely.
But perhaps more important than your comfort is your safety, especially when it comes to a gas-powered furnace or another gas-powered heating system. A cracked heat exchanger can and will increase your risk of carbon monoxide gas, which is a harmful and even potentially deadly gas.
Heat exchangers wear down over time, but during professional maintenance, our technicians will check this over to be sure it's in decent condition, and ready to provide you with safe and reliable heating this season.
Maintenance and Its Impact on Your Wallet
Many homeowners avoid maintenance due to the cost. However, it could actually cost you more to skip maintenance, in the long run!
Your system will retain 95% of its efficiency throughout most of its lifespan with yearly maintenance (here, we are talking about a furnace. A heat pump system should be maintained twice a year).
You'll extend the lifespan of your HVAC equipment, delaying replacement for months and even potentially years.
You will save on emergency repairs since you can schedule them on your own time.
You'll help prevent major system breakdowns that cost more to repair.
With our maintenance plans, you can enjoy discounts on repairs, as well as reduced or waived charges.
Call the friendly staff at Boehmer Heating & Cooling to schedule your next furnace tune-up, and to receive exceptional customer service!