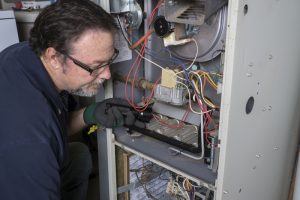 There are a number of reasons a homeowner may choose to invest in an electric furnace over a gas-powered system. For one, they may not even have access to their municipal's gas line. Another reason might be that they're worried about the safety hazards that a gas-powered system presents.
That's not to say gas furnaces are inherently dangerous. In fact, today's systems are built much sturdier than those of the past, and so long as you have your system professionally installed and serviced by trained professionals, you shouldn't have much to worry about.
However, just like any other powerful appliance, gas furnaces do need routine maintenance done. And skipping this service certainly can leave you in danger—in danger of a carbon monoxide leak due to a cracked heat exchanger.
"Am I At Risk?"
Cracked heat exchangers are typically not a problem in newer heating systems. You shouldn't expect to find this problem in any furnace younger than 10-15 years—unless, of course, it was installed by an amateur and/or you haven't had it professionally serviced in all that time. Regular maintenance sessions help our technicians catch cracked heat exchangers early enough that you'll know it's time to arrange for repair or in some cases, a heating system replacement.
What Exactly Is a Heat Exchanger?
The heat exchanger is an integral component of a gas-powered furnace. It's the area where the heat from the combustion gasses transfer to the air from the blower fan, which moves into the ventilation system. The combustion gas should not come into direct contact with the air, otherwise unhealthy fumes (like carbon monoxide) will end up seeping into your living space.
Rather, the combustion gas enters the heat exchanger, which is a metal, clam-shaped chamber. The heat of the combustion gas raises the temperature of the metal, and as the air from the blower passes around it, heat transfers to it. Essentially, the heat exchanger is where the furnace heats the air.
The Problem with a Cracked Heat Exchanger
As you may have guessed from the description above, a cracked heat exchanger is a problem because it allows the exhaust fumes inside the exchanger to seep into your indoor air. The most toxic of these fumes is carbon monoxide, which can cause severe health problems and even fatalities. A properly functioning furnace sends the fumes out a flue, but a crack in the heat exchanger can allow some to leak.
What Causes a Cracked Heat Exchanger?
In most cases, it's corrosion that causes this problem. The reaction between the combustion gas and metal creates a weakening of the metal, which is why we mentioned this problem usually only occurring in older furnace systems. Even if it's a small crack that you can't see, it's important to know that it stretches wider as the heat exchanger turns hot and expands—and this is where the problem lies.
"How Do I Know If I Have a Cracked Heat Exchanger?"
In many cases, this will be found during maintenance. However, if you notice a clicking sound coming from your furnace after the blower shuts off, you can have a cracked heat exchanger. Cease use of your system and call in a pro. Additionally, it's a must to have carbon monoxide detectors installed in your home so you can be alerted to its presence right away.