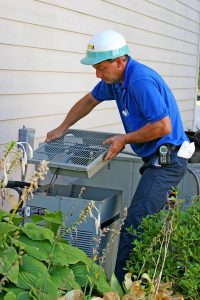 What exactly do we mean by a "summer-ready air conditioner," anyway? Well, we mean an air conditioner that has been properly maintained. Sure, there are some basic maintenance tasks you can do on your own. This includes changing or cleaning the air filter in your air conditioner every 1-3 months during periods of use. It also includes making sure your vents and outdoor unit are unobstructed to allow for proper airflow.
But in order to truly make a difference in your air conditioner's performance and efficiency, you want to schedule professional maintenance once a year (twice a year if you're utilizing a year-round heat pump system.) This is one of the most important, if not the most important, air conditioning services in Whitehall, PA you can invest it. But, what exactly happens during the maintenance process? How do our technicians ensure your air conditioner will last all summer long?
It All Starts with a Thorough Inspection
There are three basic components of professional air conditioning maintenance: the inspection, adjustments, and cleaning. For the sake of brevity, we're going to cover the inspection portion, since that is the most important.
It's important to realize that any inspection of a complex appliance such as your air conditioner requires the skill of a highly trained and experienced technician with the right training and tools. An amateur handyman or enthusiastic "do-it-yourselfer" cannot possibly know all the intricate components involved in this refrigeration technology.
During your air conditioner's maintenance inspection, our technicians will go through an extensive checklist, analyzing all the major components of your system. This includes, but is not necessarily limited too:
Bad Electrical Connections: Some of the most common air conditioning system malfunctions are electrical. Moisture and other environmental factors can cause the electrical wiring and connections to start corroding, which eventually causes various components to fail, until your air conditioner breaks down entirely. But with a professional inspection, our technicians can look at risk factors and look for wiring that is already coming loose. Sometimes, all it takes to fix an issue of this caliber is tightening the connections.
Motors Lacking Lubrication: Our technicians will pay especially close attention to the motors in your air conditioner. This motor operates the fans and the compressor. Over the years, the motors accumulate dirt and debris, and also strain on the motors can cause an overload and motor burnout. Our technicians will lubricate these motors each year during maintenance, and if one needs a replacement we'll recommend that right away.
Refrigerant Pressure or Leaks: Your air conditioning system comes with a factory-set level of refrigerant. This is known as its charge, and if that charge has dropped, then it means you have a leak. Without proper repair, a refrigerant leak puts your compressor in danger of failure. In most circumstances, a compressor failure means you have to replace your entire air conditioner. If we can help you avoid premature replacement, we're happy to do so!
"Summer Has Already Begun, Should I Just Wait Until Next Year?"
Here's the thing—we typically recommend that AC maintenance is scheduled in the spring because it makes it more convenient for you, and easier to get a technician out to your home right away. But the truth is, with the exception of a complete air conditioner shut down, it is never too late for maintenance. The time of the year is less important than you having maintenance done on a routine basis.
At Boehmer Heating & Cooling, we're committed to improving your air conditioning efficiency with thorough AC maintenance, in addition to careful installation and repairs. Call our friendly staff for exceptional customer service.