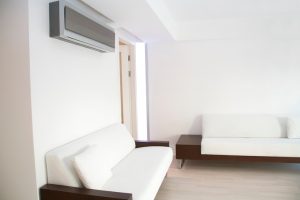 Many people pay attention to the latest in flashy gadgets like smartphones and video game consoles. But few know what's going on in the world of heating and cooling. We understand that this may not be the most interesting subject for today's homeowner—but maybe it should be. After all, air conditioning can account for a majority of your utilities in the summertime!
Keep up to date with the latest in AC technology with the help of our experts.
High Efficiency Equipment
Today, air conditioners are more efficient than they've ever been before. Variable speed settings allow an air conditioner to work at a lower speed while keeping more precise temperatures. And in general, the technology used in manufacturing allows properly-sized air conditioners to cool a home faster while using less energy. The higher the SEER (Seasonal Energy Efficiency Ratio), the more you save! Look for a SEER rating of 15 or higher for the most efficient systems.
UV Lights
A UV light system is a system that can keep your air a whole lot healthier. Some of the biggest threats to your air quality are viruses, bacteria, and other germs, tiny microorganisms that can make you sick when they are airborne. A UV light system can be installed within the ductwork to kill and sterilize these airborne contaminants so they no longer affect your air quality!
Smart Thermostats
A smart thermostat, or Wi-Fi thermostat, can help you cool your home in a smarter way. You can set a schedule for home cooling that helps to reduce monthly costs, and it can even automatically learn and adjust to your daily habits.
Most importantly, a smart thermostat can be operated from almost anywhere! You can use your smart phone to raise the temperature if the kids' soccer game is running late or to cool the home if you'll be there early. It's convenience and efficiency in one!
Ductless Systems
Many homes are without functional air ducts. In the past, this has meant that homeowners had to use window air units and portable air conditioners for cooling. But today, you can go ductless!
A ductless system has indoor air handlers located high up on walls of different rooms throughout the home. Think of these like the vents of a conventional air conditioner/furnace—except that they also contain a blower, coil, and some other vital components. Each unit connects to an outdoor condenser/compressor unit, and are able to cool and heat the room!
Geothermal Air Conditioning and Heating
Geothermal air conditioning and heating uses an underground system (and some familiar above-ground components) to provide your home with heating and cooling thanks to the heat energy of the earth. Underground, the temperature remains relatively constant when compared to the temperature of the air outside of your home. That makes it a reliable source of heat energy for both heating and the thermodynamic process of cooling.
To heat your home, the underground system circulates water, which moves to a heat pump to heat the air moving throughout your home. In summer, a heat pump absorbs heat from your home and deposits it into the earth. This is a smart, long-lasting, and highly efficient way to stay warm and cool throughout the year!
Boehmer Heating & Cooling offers air conditioning installation and service in the Baldwin-Whitehall area. Call our friendly staff for exceptional customer service.