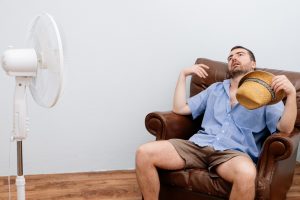 We know how much you'd love to run the air conditioner at full blast all day when it starts to get hot and humid outside. However, this simply is not doable when you factor in the cost of energy. Besides, running your air conditioner all day long would really wear out the system, potentially forcing it to fail far sooner than expected and to require frequent repairs. Your system is designed to cycle off for long periods of time because your air conditioner needs a break!
Give your system a bit of a break this summer by following our expert tips and by calling our thorough, experienced team for all of your air conditioning needs in Pittsburgh.
Get a Wi-Fi Thermostat
A Wi-Fi thermostat connects to the Wi-Fi in your home to allow you access from wherever you are. So, if you're at a restaurant with friends and you suddenly remember you left the air conditioner on at its regular settings, you can take out your smartphone, quickly raise the temperature in your home, and get right back to the fun.
In addition, it's much easier to program the air conditioner efficiently throughout the day with a Wi-Fi thermostat giving your air conditioner a break when needed at peak hours.
Outfit Your Home for Warmer Weather
Air leaks in the home can force your air conditioner to work a lot harder than it needs to. Sealing leaks around the home with caulk can help to give your air conditioner a break. That means sealing leaks around pipes that lead to the outdoors, around vents, and around windows. For leaks at the bottom of doors and windows, add weather stripping.
Keep Your Body Cooler
Try making a visit to a local pool! That will certainly let your air conditioner rest for a while (and give you and the family hours of fun). While at home, try cooling off with a ceiling fan so you can raise the thermostat temperature by a few degrees. And of course, where lightweight clothing and drink plenty of water throughout the day.
Don't Invite Heat into Your Home
That means that you shouldn't use your oven too often in the summer, and certainly not during the daytime. In addition, try to refrain from using your dishwasher and clothes dryer until nighttime. You should have a quality window shade to pull down when it gets warm to leave solar heat out of the house. You can also install an awning to keep heat away from windows with a southern or western exposure.
Find Factors in the Home that Cause Inefficiency
An energy audit can help you to determine what parts of the home may be contributing to energy waste. Technicians can test your home for air leaks and can inspect your insulation. They can also let you know if you need air balancing, an AC tune-up, or if your ductwork is in need of sealing or repair. Schedule an energy audit with a qualified technician today!
Contact Boehmer Heating & Cooling for exceptional customer service. We offer air conditioning service and energy audits in Pittsburgh, PA.