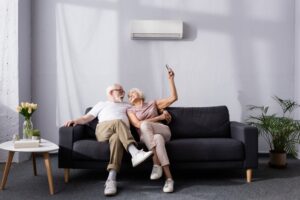 Today's homeowners have so many options when it comes to how they cool down their homes. If it's time for you to choose a new air conditioner for installation, you may be wondering if you should go with the classic central air conditioner or opt for a ductless mini split.
Making the decision is easier when you take into account certain factors such as the quality of your ductwork, how long you intend to own your home, and many others. Let's look at the many pros and cons of both of these systems so you can be an informed consumer when it's time to choose.
Central Air Conditioning: Pros
Economical: The cost of a central AC is going to be less expensive than a mini split, especially if you had a central air conditioner before. That means that your ductwork is in place and we shouldn't need to make any modifications for its installation.
Powerful: You just can't beat the power of a central AC to cool down a home, especially if you have a large home with a lot of square footage.
IAQ Integration: If your system has air quality products installed with it such as humidifiers, dehumidifiers, air purifiers, and air filtration devices, these won't transfer to a mini split. If having one of these systems installed is on your radar, you're better off going with central AC.
Options for Efficiency: Today's central air conditioners are designed for maximum efficiency. Depending on the size of your home and the needs of your family, you can choose between SEER2 ratings to find one that'll be the best fit for your particular needs.
Central Air Conditioning: Cons
Less Efficiency: Having said that, compared to a mini split, a central AC is simply going to be less efficient. That's because it's usually an all-or-nothing approach to cooling down a home. You do have the option of two-speed or variable-speed systems but this will add to your initial cost.
Zone Control: A zone control system is an addition that can be made to central air that will allow you to raise and lower the temperatures of certain zones of your home. However, it doesn't compare to the granularity you can achieve with a mini split.
Ductless Mini Splits: Pros
High Efficiency: Mini splits are heat pumps which means they rely solely on electricity and don't use fossil fuels. Combined with the fact that you can adjust the temperature in only one room of your house at a time results in unparalleled energy efficiency.
Precision Zoning: With an air handler mounted in each room of your home, you can control the temperature of every room in your house with the touch of a button. This is great for households where certain members run hotter or cooler than others.
Flexibility: With the installation of a mini split, the ability to customize your home comfort is in your hands. You can choose which rooms to install an air handler. You can even install them in spaces that have been difficult to heat or cool such as an addition or garage.
Ductless Mini Splits: Cons
Filtration: Mini splits have filters that must be changed on a regular basis so routine maintenance is essential.
Aesthetics: Some homeowners are bothered by the air handlers that are visible in each room. This is something to take into consideration if you want your system out of sight and out of mind.
Initial Cost: The initial cost of a ductless mini split is going to be more expensive than that of central air conditioning but you'll enjoy lower utility bills as long as you own it.
Call the friendly staff at Boehmer Heating & Cooling for exceptional customer service! Schedule your AC installation with our team today.