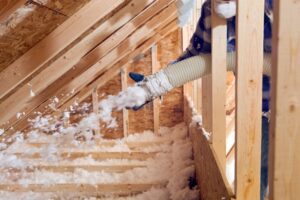 Did you know that insulation isn't just for the wintertime? When homeowners think about drafty homes, they typically imagine cold air sneaking in on already chilly days. But what if we told you that insulation can help on hot days, too? Finding ways to keep cool air inside during the summer and hot air inside during the winter is integral to your comfort all year long.
Your level of insulation is one of many of the things we check when we perform what's called an energy audit, where we look at where your heat transfer opportunities are. When we talk about heat transfer, we mean the transfer of heat through the spaces of your home, whether outside or inside.
Read on as we go into further detail on how good insulation helps your home, and whether your home may need better insulation to keep things comfortable throughout the year.
The Functionality of Insulation
When you're trying to achieve optimal home comfort, it's not just about creating warm air during the winter or cool air during the summer. It's about preventing heat transfer to keep the outside, uncomfortable air out of your home. Insulation is a product that will ensure that your home stays protected and comfortable no matter the time of year.
As you learned in science class, heat rises. The higher up we go in our homes, the warmer things get. In the wintertime, if you don't have adequate insulation, that heat is going to escape right out. In the summer, the opposite is going to happen. The heat is going to have nowhere to go and you'll have the ambient heat from the sun beating down on your roof.
Good quality insulation will prevent that sunshine from heating up your home even further in the summer, allowing your air conditioner to effectively do its job and work as efficiently as possible, and will prevent heat from getting out in the winter, meaning you can equally use your heating system just as efficiently.
Make Sure Your Attic Is Insulated
By ensuring that your attic is well insulated, you can expect better results from both your air conditioner and your heating system, By keeping excess summer heat out, you'll essentially remove a large heat sink that creates problems from your home's comfort. By keeping winter heat in you'll prevent your heater from overworking and costing you way more than it should to run.
Ask us about the different insulation materials used, and what might be best for your home. Cellulose insulation, for example, is a green solution that many homeowners are turning to in order to help with their home comfort in addition to their efforts to be environmentally friendly.
Insulation Belongs Everwhere
The attic is not the only place you need quality insulation! You need it behind your drywall, too. Our team can fill in gaps behind your drywall with blown-in insulation to ensure that your entire home is as efficient as possible. After all, we are your home performance experts!
To improve your home performance and indoor air quality, contact our team today! Call the friendly staff at Boehmer Heating & Cooling for exceptional customer service.