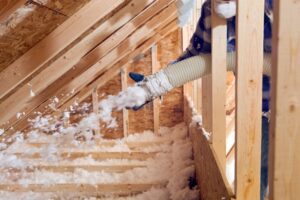 Did you know that insulation isn't just for the wintertime? When homeowners think about drafty homes, they typically imagine cold air sneaking in on already chilly days. But what if we told you that insulation can help on hot days, too? Finding ways to keep cool air inside during the summer and hot air inside during the winter is integral to your comfort all year long.
Your level of insulation is one of many of the things we check when we perform what's called an energy audit, where we look at where your heat transfer opportunities are. When we talk about heat transfer, we mean the transfer of heat through the spaces of your home, whether outside or inside.
Read on as we go into further detail on how good insulation helps your home, and whether your home may need better insulation to keep things comfortable throughout the year.