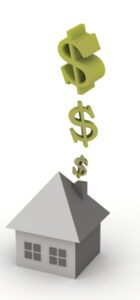 Did you know that the way you use your heating system could be costing you way more money than it should? Sure, your utility bills are going to rise in the fall and winter–this is expected in our area. But your bills shouldn't be drastically higher.
Read on as we uncover some common heating mistakes you might unintentionally be making, and how to use your heater as efficiently as possible.
Not Having a Programmable or Smart Thermostat
When you have a programmable thermostat, and use it as you should, then you can easily cut back on your energy bills. Modern programmable thermostats allow you to make different schedules for your heating system. You can even take this a step further and get a smart or WiFi thermostat, which learns from your heating and cooling preferences and adjusts itself accordingly to bring you the best in efficiency.
Not Having a Humidifier
The ideal relative humidity level in any given home is between 30-50%. Anything lower than 30% is too dry, and as a result, you and your home can suffer. First of all, dry air can cause property damage–it dries out wood furnishings and even wood instruments, leading to splitting and breaking. Dry air also dries out our sinuses and makes us more susceptible to germ transmission.
Lastly, dry air makes us feel cooler. So, we turn our heaters on full blast to try to compensate–but all that's doing is causing the furnace to run longer than it should have to in order to keep you comfortable. A whole-house humidifier can be installed directly into your ductwork to distribute the right level of humidity throughout the entire home to combat any problems dry air can bring.
Keeping the Temperature Setting Too High
Where are you setting your thermostat? Did you know that The Department of Energy recommends a temperature setting of about 68°F? If you really want to save, this is the best setting… and it's best to lower that when you aren't home or when you're sleeping.
The idea is to get your furnace to only run as long as it needs to in order to keep you comfortable, without completely turning it off. If you turn it off completely, this allows your home and the system's ductwork to cool down. Your heater will have to use a lot more energy trying to get back up to your desired temperature after having it completely off than it would if you'd kept it as a reasonable setting.
Not Having Inadequate Insulation
The right type and the right amount of insulation prevent heat transfer. This means that the heat from your furnace or heat pump will actually stay in your living space. It's important to note here too, that you may want to have our home performance experts take a look in your home and check for drafty doors and windows, or even damaged ductwork, to ensure that your home truly is properly insulated.
We're the team you can trust for your professional heating and indoor air quality services. Call the friendly staff at Boehmer Heating & Cooling for exceptional customer service!