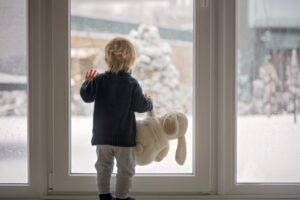 Boehmer Heating & Cooling has been in business for over 85 years, and throughout that time, three generations of the Boehmer family have pioneers home performance solutions for our customers throughout Pittsburgh and beyond, that increase in-home comfort, health, and most importantly, safety.
We're committed to keeping our customers protected no matter what time of the year it is, but winter presents some specialized risks that most folks don't consider. Read on as we uncover 5 potential hidden dangers in your home, and how to avoid them!
Cracked Furnace Heat Exchanger
Do you know what a heat exchanger is? This is a clamshell-shaped component within your furnace that collects combustion gas that makes it possible for your furnace to actually heat your home. What happens is that the combustion gases heat up the metal walls of the heat exchanger, and fresh air is blown over the exchanger from the blower fan, which is how you get warm air coming through your ductwork and your vents.
When the heat exchanger is cracked, it means these combustion gases–particularly carbon monoxide (CO)–can leak out and into the airstream, which is exactly where they don't belong. Cracks in the heat exchanger typically occur due to old age and natural wear and tear, but it's a problem to be aware of nonetheless.
The best way to avoid this problem is to routinely schedule heating maintenance. This enables our professionals to thoroughly inspect your system, making adjustments and recommendations for repairs if needed. If we notice a problem with your heat exchanger, we'll tell you.
It's also essential that you have a carbon monoxide detector installed in your home! This will alert you to its presence long before your family is exposed to enough to cause carbon monoxide poisoning. Ask us about the Nest Protect Smoke and CO detector. This is a Google smart home product that hooks up to your internet network so you can get alerts on your phone or mobile device, even if you aren't at home.
Damaged or Overloaded Electrical System
Homes today have more electrical demands than ever before. Today's electrical panels can handle this! However, many homeowners are still using outdated circuit breaker panels or even fuse boxes. And what happens when these get overloaded by too much voltage is the wires start to melt. You could even have electrical fires. These are usually very small and burn themselves out quickly.
However, there is always a chance it will grow into something bigger, particularly if you also have old wiring or poorly installed electrical components. The best thing you can do for your home, in this case, is upgrading your electrical panel. We also recommend, again, installing the Nest Protect system!
House Fire
We know that not all of our customers celebrate Christmas, but for those who do, if your festivities include putting a tree up inside your home, this tip is for you. Dried-out Christmas trees (especially if their lights are left on) are one of the leading causes of house fires in the wintertime.
Outdoor holiday lights can run the same risk if your electrical system isn't updated.
Avoiding this danger can be as simple as being aware and taking appropriate steps like watering your Christmas tree and making sure your holiday lights only rely on the outlets you already have in your home, and not additional "octopus" plugs or power strips.
Virus Transmission
During the wintertime, humidity levels drop. The ideal humidity level in any given home is between 30-50%, and anything below that 30% is considered too dry. This can cause a number of problems for your property, and also your health. Dry air dries out your natural defenses against flu and cold viruses by lowering your immunity to these viruses. Ask us about the APCO FreshAire UV Light. This is an indoor air quality product we install that has proven to be effective against all types of biological and chemical contaminants that could make their way into your home.
Power Outage
Have you ever been stranded at home without the ability to heat your living space or refrigerate your food? This can happen at any time, particularly when we have bad weather. The good news is, you don't have to be caught by surprise. Instead, you can invest in a whole-house automatic standby generator, which uses natural gas and will cycle on when your power goes out, so you'll barely skip a beat with your heating system and other important home appliances.
Boehmer Heating & Cooling is your expert in Pittsburgh home performance services and so much more. Contact us today for more great tips and to learn more about our services.