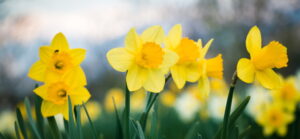 Spring is officially here! As the weather warms and you get in the mood for gardening and home improvement projects, you may be wondering where to start. Our basic spring home maintenance tips include:
Cleaning your windows and screens
Replacing the air filters in your HVAC system
Sealing up your doors and windows
Touching up your exterior paint
Decluttering your home
These are just a few examples! But perhaps the most important thing you can do for your home during spring is taking steps to make the interior of your home more comfortable, and your energy more efficiently. How so? By remembering your air conditioner, as well as your other indoor air quality efforts! Read on to learn more.
Schedule Your Air Conditioner Tune-Up
Spring is the perfect time to schedule your annual air conditioner tune-up. Why? Because it's before you need your system the most. Professional air conditioning maintenance will help your system work as efficiently and effectively as possible, for as long as possible. Spring maintenance:
Reduces Repair Needs: During maintenance, our technicians thoroughly inspect, clean, and adjust components that need it. During the inspection part of this process, we look for signs of natural wear and tear. If we notice those signs, we can make the appropriate adjustments right away or at least alert you to the need for small repairs before they even have a chance to grow into bigger, and more costly repair needs. Maintenance can actually help you avoid up to 85% of the repair costs your air conditioner might ever need!
Increases Air Conditioning Efficiency: When all the components are working as they should and your system is appropriately cleaned, the system will work more efficiently. Every air conditioner comes with a SEER rating (Seasonal Energy Efficiency Ratio). When your system is well maintained, it can retain about 95% of that efficiency rating. Otherwise, without maintenance, your system can lose about 5% of its original efficiency rating for every year maintenance is skipped.
Helps Your System Reach Its Useful Lifespan: When we talk about useful lifespan, we're talking about how long an air conditioner can work at its most powerful and most efficient. When properly maintained, you can expect your air conditioner to operate effectively for 10-15 years before you would need to replace or upgrade the system. Otherwise, you could expect that lifespan to be cut in half.
"Are there any maintenance tasks I can do on my own?"
Sure! Professional maintenance should only be done by a qualified professional in order to maintain your manufacturer warranty. But there are some small general maintenance tasks you can do on your own. For example, you'll see above that we mentioned changing the air filter. The air filter that comes standard with your HVAC systems is in place to protect those systems from dust, dirt, and other debris that can get inside.
Depending on the type of air filters you have, and the level of contaminants in your home, these air filters should be changed out or cleaned (if permanent) every 1-3 months.
Another maintenance task you can do on your own is to make sure that the outside unit of your air conditioner is clean and clear. Make sure there is no lawn mulch, leaves, or branches on or surrounding the outside unit. All of this can restrict airflow and make it harder for your air conditioner to efficiently do its job.
We are your trusted resource for professional air conditioning maintenance in Pittsburgh and beyond. Call the friendly staff at Boehmer Heating & Cooling for exceptional customer service!