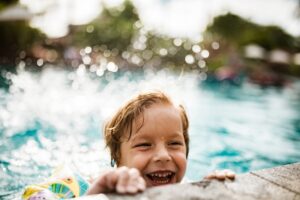 If you've lived here for even just a year, then you know how brutal our summers can be. We're here to help make them a little bit more comfortable! With our expert installation, maintenance, and repair services, we'll make sure that your air conditioner is working as flawlessly as possible. Our services help ensure that your cooling system operates as efficiently and effectively as possible, for as long as possible, so you can beat the heat each and every summer.
Of course, there are a number of ways beyond simply using your air conditioner that can help you beat the heat. Read on as we uncover some of our favorite ideas!
Have Your Air Conditioner Maintained: One of the best ways to make sure you can beat the summer heat this year is by staying on top of professional maintenance for your air conditioner. Maintenance allows our technicians to comprehensively inspect, clean, and adjust the components that need it. This helps prevent up to 85% of the repairs the system may ever need, and retain up to 95% of its efficiency, meaning you stay comfortable, reliably and affordably.
Stay Hydrated: Whether you have a great air conditioner or not, you always want to make sure that you and your family stay hydrated! The common recommendation is to drink about 64 oz. a day of water… of course, this is something you may want to talk to a medical professional about to ensure you're getting the right amount!
Eat Lighter Meals: Did you know you can help yourself and your family stay cooler by eating more salads and fruits with high water content? Eat items that won't tax your digestive system.
Don't Use the Oven During the Day: That is, don't use your oven during the hottest part of the day. Even with your air conditioner running, your home will not cool down very quickly, and as a result, your air conditioner will struggle to meet the desired temperature on your thermostat.
Change Out Your Lightbulbs: Did you know lightbulbs can emit a lot more heat than they need to? Consider changing out your current bulbs for longer-lasting and more efficient LED bulbs. They actually produce around 70% less heat than standard incandescent lightbulbs.
Unplug Your Laptop: By unplugging your laptop when you aren't using it, this electronic device won't generate heat, making it easier for your air conditioner to cool your living space down, thereby reducing your energy bills.
Use the Pool: Whether you have a pool of your own or there's one in the community, take advantage of it! Just don't forget the sunscreen.
Block the Sun in Your Home: Your home heats up faster when it's exposed to direct sunlight. Consider keeping blinds and curtains closed, especially to south-facing windows. This will keep your home cooler and it will keep your air conditioner's compressor from running more than it needs to.
Make Some Frozen Treats: Look up recipes for homemade popsicles and other frozen treats to beat the heat this summer!
Double the Cooling from Your AC: Have floor vents? Put a bowl or tub of ice in front of it (far enough away that it doesn't block the vent) and the air will blow over the ice, bringing even more cooling into your home. Alternatively, you can do this in front of a box fan to add more cooling.
For professional Pittsburgh air conditioning service and more, contact Boehmer Heating & Cooling.