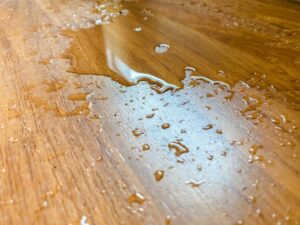 When you hear about water leaks, you probably think about your plumbing system, right? Plumbing pipes have leaks all the time! Well, at least, a lot more than we probably prefer.
While plumbing leaks are certainly inconvenient and sometimes even really expensive to fix, there is another type of water leak you should be concerned about–not because it happens often but because when it does happen, it means trouble–a water leak coming from your air conditioner. Read on to learn why this is happening and what can be done in the future!
Why Is There Water Coming From My AC?
The reason there is any water in your air conditioner at all has nothing to do with its operation, but the fact that condensation forms along the evaporator coil. Cold refrigerant travels through this coil, which draws heat from the air in order to cool it down and return it to your living space. As the refrigerant evaporates, it causes moisture in the air to condense.
The water drips off the coil, and ideally into a condensate drainage system that is designed to catch and remove it. There's a shallow drain below the coil that collects the moisture, and a pump draws the water out of the drain. A tube carries the water outside, where it safely drips onto the ground.
When you see water where it shouldn't be–for example, puddling around the air conditioner itself–this means that the condensate drain or pan has a problem. It might be that it got clogged up with debris. This can be prevented with maintenance, which we'll touch on more below, but once it happens, you'll need to address the issue so it doesn't cause subsequent problems.
Can I Fix It On My Own?
You will need a trained HVAC professional to safely and accurately detach the pan from the drain, effectively clean the drain, and reassemble the drainage system. Trying to do this on your own could unintentionally cause more harm than good for your air conditioner, and can leave you calling in a professional anyway.
How Can I Prevent This From Happening Again?
Maintenance!
Routine, annual HVAC maintenance (or biannual, if you have a heat pump) allows our technicians to thoroughly inspect, adjust, and clean all the components that need it. By taking these steps, we ensure that everything within the system is working exactly as it should, including the condensate drainage system.
Air conditioning maintenance is typically recommended in the springtime, before you need your system the most. If you missed this window though, it's never too late! With maintenance, consistency is more important than timing. So give us a call to schedule your next maintenance tune-up. Not only will it help keep your condensate drainage system in good shape, but it will also reduce your repair costs by up to 85%, retain 95% of the system's original efficiency rating, and help your air conditioner last longer.
Call the friendly staff at Boehmer Heating & Cooling for exceptional customer service! We're your trusted resource for air conditioner repairs in Pittsburgh and beyond. Contact us today!