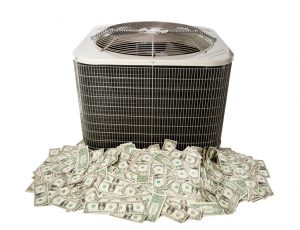 When your air conditioning bills are higher than usual, you may come to think that's just the hand you've been dealt. After all, air conditioning equipment does become less efficient with time, and variations in the weather certainly have an effect on how much energy your system requires. While AC equipment and outdoor temperatures can certainly be at fault for your high bills, there may be other factors under your control.
Conditions within the home influence how well your air conditioner works, and these are often things that can be repaired. Check out some of the home troubles that can make energy bills soar, and call our team to help you get the changes you need.
Poor or Missing Insulation
Insulation is an important part of home cooling. Many people only picture it as helping a home to stay warm in winter—and it does!—but it's just as important for cooling. Insulation works as a heat barrier. It can help to trap more heat in the house in the winter, but it can also help to keep heat out of the house in summer so that the air conditioner doesn't have to work so hard.
Old, patchy insulation in your attic is a sign you should consider upgrading, and a technician can help you to figure out whether you need more insulation in the walls. This can result in much lower bills year round!
Air Leaks Around the Home
Small leaks and cracks around a home are common, but they can allow warm air to come through the house. Sealants wear down and become warped and weathered, and you may need to reseal or replace components around windows and doors from time to time.
For leaks around pipes and vents, caulk can keep air in or out. For those around windows and doors, you may need to replace weather stripping. It's an easy job that can save you a lot.
Blocked Off Vents
Sometimes, people close off vents hoping this will help to manage temperatures more effectively. If you're not using a room, it doesn't need any air, right? Well, this can actually end up costing you more.
Your air conditioner might run for longer in an attempt to cool the home, and it can suffer and short cycle attempting to cool a space much smaller than it was designed for. Keeping all vents open, no matter what, and avoiding accidental blockages to your vent helps maintain airflow for better AC performance.
Clogged Filters
Finally, we cannot stress enough the importance of cleaning or replacing your filters regularly. Each month, you should replace your air filter so that air can continue to flow properly. This may seem like something that adds to the cost of AC ownership, but with typical use, this is simply not the case.
Clogged filters prevent air from moving throughout your home and over the indoor evaporator coil. Your air conditioner has to work harder, costing you more, and it may lead to other problems like a frozen coil.
Boehmer Heating & Cooling offers air conditioning services in McMurray, PA. Call our team today!