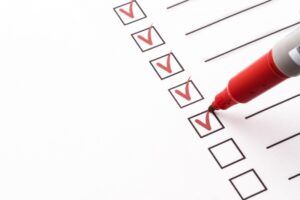 When you see something about spring cleaning, you likely envision dusting and decluttering your home. Maybe you bag up some stuff to donate and call it a day. These tasks will certainly help you enjoy your home more, but we have a slightly different idea of what spring cleaning looks like.
For our professionals, spring cleaning means investing in home services and completing home maintenance tasks that will keep your household running as efficiently as possible. This improves your family's comfort and contributes to lower monthly energy bills. Read on as we uncover our version of a spring cleaning checklist.
Schedule an AC Tune-Up
AC maintenance is one of the most important home services you can invest in. During a tune-up, our technicians thoroughly inspect, clean, and adjust the components that need it. This ensures that your air conditioner performs as efficiently and effectively as possible for as long as possible.
Springtime is typically when it's most convenient to schedule maintenance. This is because it's right before you need your air conditioner the most, and HVAC technicians are more available, and less likely to be out on emergency calls.
Change the Air Filter
There's a common misconception among homeowners that the HVAC air filter is in place to protect their indoor air quality. It's actually in place to protect the HVAC systems themselves from dirt, dust, and other debris that can get inside and impede performance. When it gets too clogged up, airflow is disrupted and your air conditioner will work inefficiently.
Inspect Outdoor Components
As winter gives way to spring and warmer weather, the outdoor components of your home will be affected. Not only are allergens likely to make their way indoors without the right air quality products and services, but snow and ice melt can cause issues too. Here's what you should inspect to mitigate any problems:
Exterior Hose Connections: How's the water pressure coming from your outdoor faucets? If it seems weak, it might be a sign that you had a frozen pipe that burst and isn't allowing water to flow as it should. If you notice low water pressure, or even that your outdoor hose connections are dripping water when they're turned off, it's time to give us a call.
Gutters: When your gutters get too clogged up with snowmelt and debris, it can cause a number of problems, such as property damage and mold growth. Inspect your gutters and clean them if you can safely do so on your own, and if you discover any leakage problems, please reach out to our team right away!
Screens and Windows: Broken screens and cracked or drafty windows can let conditioned air out, and let outdoor contaminants in. Check around your home, and schedule a home energy audit with our team if you suspect that your screens and windows are leading to inefficiencies.
Outdoor AC Unit (Compressor): Over the winter, your outdoor AC unit—the compressor—can collect debris like leaves, twigs, lawn mulch, even tree branches—all of which can cause airflow problems for your cooling system. Clear away this debris, and take note as to how your air conditioner is operating. If it seems to be struggling or you haven't scheduled your spring tune-up yet, now is the time to get that on your calendar!
To schedule expert HVAC services or indoor air quality services in Pittsburgh, PA, reach out to our team. Call the friendly staff at Boehmer Heating & Cooling for exceptional customer service!